RIK Fluid Overlay
Pressure injury prevention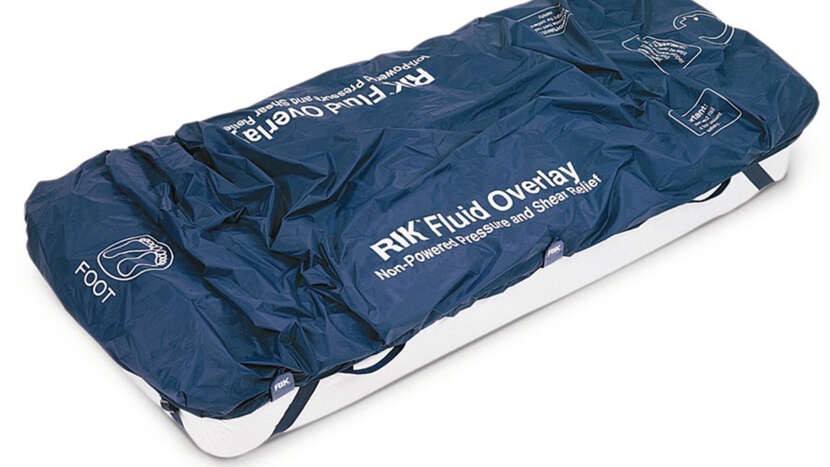 The RIK Fluid Overlay is a non-powered, fluid-based mattress overlay that provides pressure redistribution through immersion and envelopment.
The overlay utilises MicroFlow™ technology, a viscous fluid which is designed to conform to the user's body and help to minimise interface pressures. The RIK Fluid Overlay surface reduces the contact pressure at the skin-overlay interface by increasing the surface area over which the individual is supported. As the user moves, so too will the MicroFlow™, ensuring that pressure redistribution is maintained without the need for a powered pump.
In studies, the RIK system has shown to be as effective as an active mattress system for appropriate patients.¹
The overlay can be attached to most mattresses and is indicated for use in patients at high risk of pressure injuries.
References:
1. Russell L, Reynolds TM, Towns A, Worth W, Greenman A, Turner R. (2003). Randomized Comparison Trial of the RIK and the Nimbus 3 Mattresses. British Journal of Nursing. 12(4):254, 256-258
Pressure redistribution
• MicroFlow™ is a viscous fluid that is designed to conform to the shape of bony prominences to redistribute pressure equally without "hammocking" or surface tension.

As effective as active surfaces
• In a study of 158 patients, 67% of pressure injuries improved in patients on the RIK mattress (n=75).¹ The study concluded that the RIK static mattress system may prove as effective as active mattress systems for appropriate patients.¹

Patient transfer
• Firm foam around the perimeter provides a support edge for patient egress. The V-shaped cuts allow for bending of the mattress when the head and foot sections are elevated.

Uses standard hospital flat sheets
• Sheet attachments located along the sides allow most standard hospital flat sheets to be attached loosely to eliminate "hammocking".

References:
1. Russell L, Reynolds TM, Towns A, Worth W, Greenman A, Turner R. (2003). Randomized Comparison Trial of the RIK and the Nimbus 3 Mattresses. British Journal of Nursing. 12(4):254, 256-258
Dimensions
Mattress A (L x W x H) mm
1980 x 830 x 139 mm
Mattress A (L x W x H) in
78 x 32.7 x 5.5 in
Mattress A Weight kg
45 kg
Mattress A Weight lb
99 lb
Mattress B (L x W x H) mm
1980 x 830 x 64 mm
Mattress B (L x W x H) in
78 x 32.7 x 2.5 in
Mattress B Weight kg
4,5 kg
Mattress B Weight lb
9,9 lb
Safe working load (kg)
159 kg
Safe working load (lb)
350 lb
Pump
Standards
BS EN 597-1:1995, BS EN 597-2:1995 BS 6807:1996
PIP international clinical practice guidelines HR
Type: Sales | Leave behind / Brochure
Pressure Injury Prevention (PIP ETIK) Leave Behind Brochure
Type: Sales | Leave behind / Brochure
RIK Fluid Overlay Instructions for Use
Type: Instructions for use (IFU)
RIK Overlay Brochure
Type: Sales | Leave behind / Brochure
PIP international clinical practice guidelines HR
Type: Sales | Leave behind / Brochure
Pressure Injury Prevention (PIP ETIK) Leave Behind Brochure
Type: Sales | Leave behind / Brochure
RIK Overlay Brochure
Type: Sales | Leave behind / Brochure
RIK Fluid Overlay Instructions for Use
Type: Instructions for use (IFU)