Your partner in facility design
We have a long history of collaborating closely with architects, nursing home executives, safe patient handling experts, residents and relatives. Our experience has taught us that to create efficient care facilities and to obtain a good working environment, the right combination of environment, equipment and care skills are needed. Therefore it is key to design for sufficient space early in the planning of a new facility. That's why we created the Arjo Portal for Architects and Planners.
Watch the video above to learn how we support you throughout a project, from early advice on room layouts and space requirements, to drawings support and equipment installations
What will you find in the Portal?
Space requirements - Layout drawings with dimensions that allow sufficient space for caregivers, patients/residents and maneuvering of equipment
Insights - Our collection of articles on best-practices and design requirements when planning different care environments
Downloads - CAD library (2D and 3D) of individual products, complete room solutions and space requirements
Register for free access and get started.
Insights and advice
Our advisors help you analyse your care facility's needs for working space, mechanical aids and staff training with a tailored plan to create the best conditions for a safe patient handling environment.

Services
• Facility assessment
• Requirement analysis
• Working environment analysis
• Space planning

Assessment tools
• Positive Eight
• Mobility Gallery
Facility planning

For the early stages of a project we provide practical advice on planning and designing care facilities, and design inspiration for different types of rooms.

Space requirements
• Advice and recommendations
• 2D drawings
• Turning radii

Room examples and information
• Toilet and shower
• Central bathing area
• Soiled utility room

Products drawings
• 2D drawings
Design support
We support facility projects with installation drawings and other technical specifications, as well as easy access to product drawings and BIM objects.

Products drawings
• 3D drawings
• BIM-Objects

Product specifications

Installation drawings and
specifications
Products

Arjo can provide full specifications, technical information, drawings, installation and operating instructions for every Arjo product.

Products installations and documentation
• Full specifications
• Technical information
• Drawings
• Operating and maintenance instructions
• Commissioning and validation documentation

Training and In-service support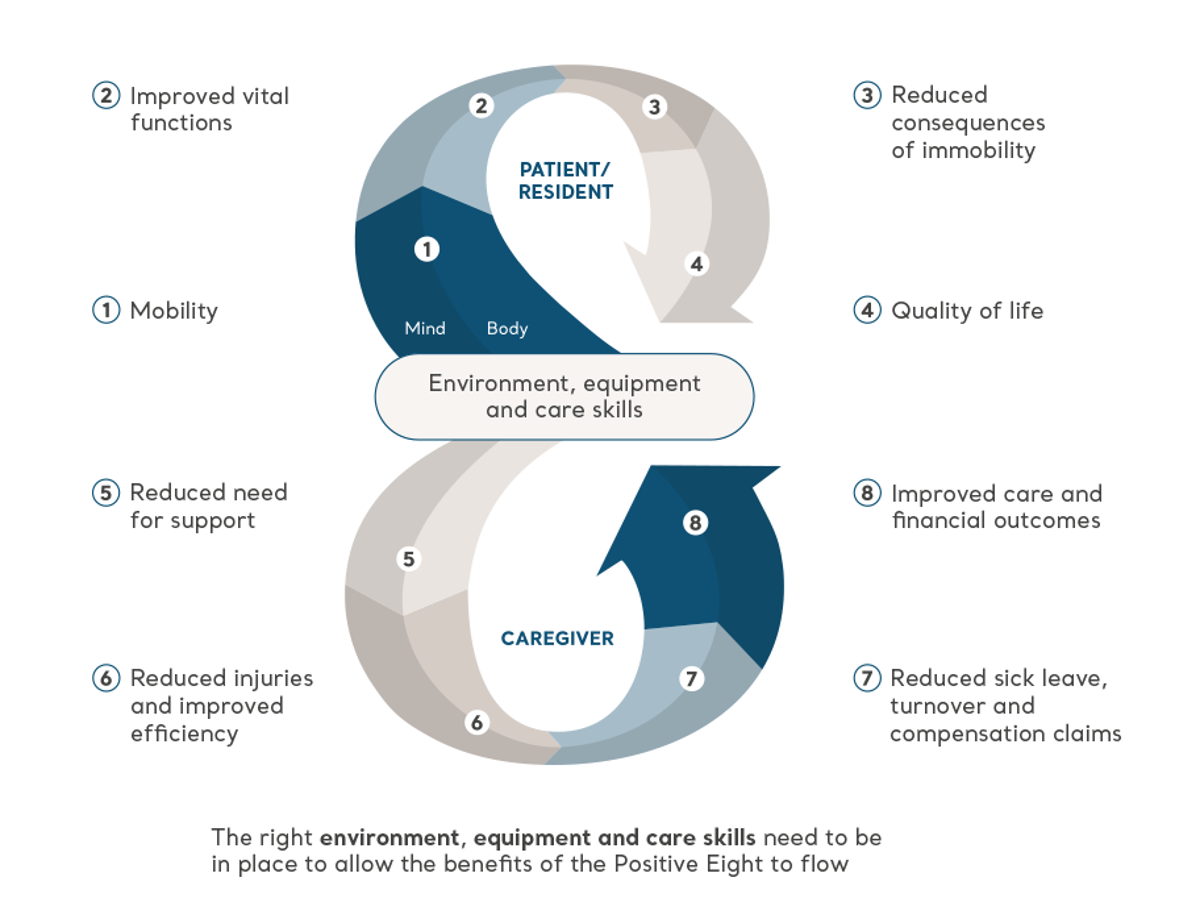 We base our work on our Positive Eight™ philosophy that starts with the combination of environment, equipment and care skills. It visualises the potential positive effects for both caregiver and resident arising from improved mobility. By securing the sufficient space, you maximize the opportunities for choosing the right equipment and applying correct working techniques, consequently optimising the working conditions for caregivers and patients. This improves the entire care process, which results in happier, healthier and more mobile residents and patients.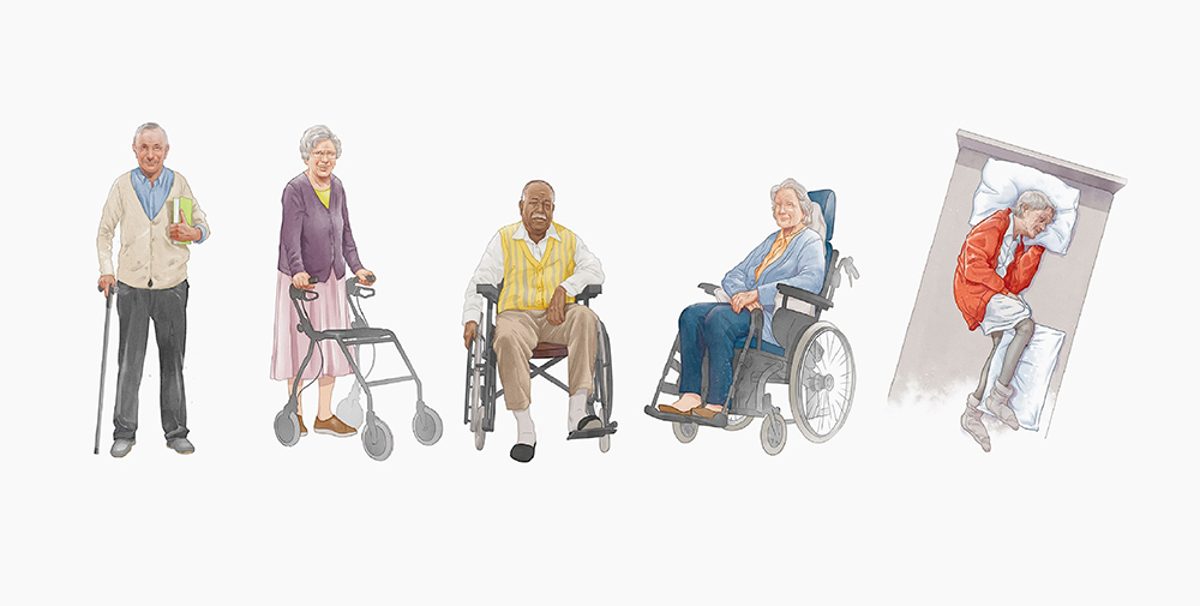 Our methodology - the Mobility Gallery™
We have developed The Mobility Gallery™, a validated risk assessment tool based on five personas and their levels of functional mobility; from completely mobile and independent persons (Albert), to those who are entirely bedridden (Emma), named in alphabetic order from A to E. Based on these five personas, we have specified functional spaces that take into account recommended equipment for each mobility level and the working environment for the care givers.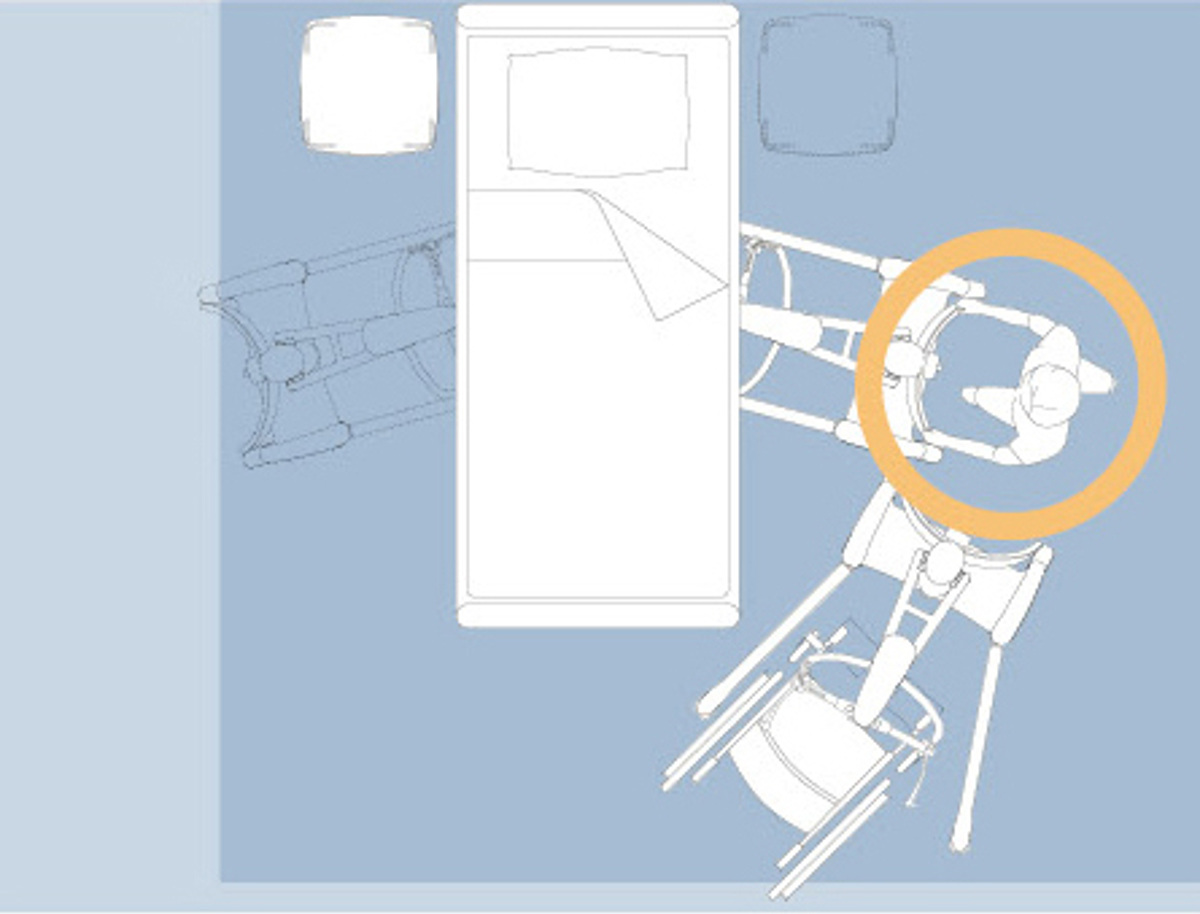 The importance of right space
This is about planning for the future, and will impact both the efficiency and quality of care and the work environment for the caregivers.

As outlined in our Positive Eight philosophy, the sufficient environment, the right equipment and the right caregiver skills can catalyze a chain reaction of benefits resulting in improved care with more mobile residents, reduced work related injuries and improved financial outcomes.
Planning should consider all resident mobility levels, in order to create a care environment that works for Albert, who is ambulatory, Carl, who needs a lot of support and stimulation, as well as Emma who is totally dependent. In order to support you in planning and designing care facilities, we have developed a number of assets such as situational space requirements, turning radii as well as complete room concepts and layout examples, available in the Arjo Guide for Architects and Planners.
Products in this solution