Citadel Plus Bariatric Care System
Preserving dignity for patients of size.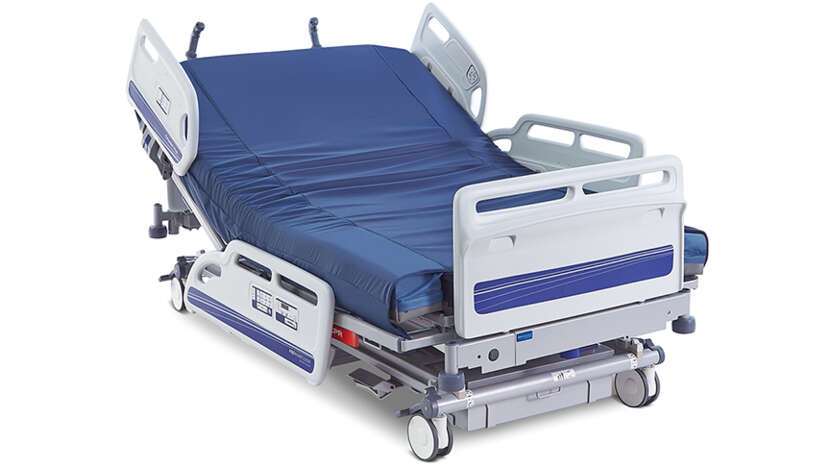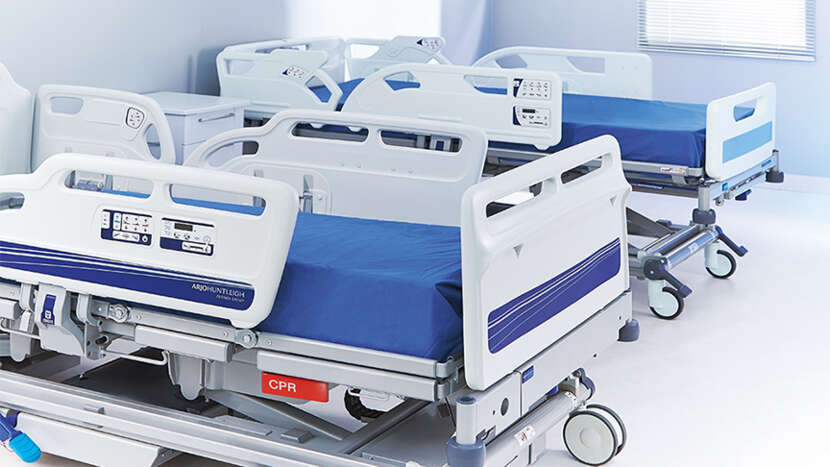 The Citadel Plus Bariatric Care System has been designed to manage patients weighing up to 454 kg (1000 lbs).
Citadel Plus provides flexible and efficient patient care.
The bed is the centre of care during a hospital stay, providing a platform for patient recovery while helping reduce the risk of patient and caregiver injury. Citadel Plus is purpose-built for hospitals demanding the highest levels of safety and efficiency from their beds and therapeutic surfaces.
Variable width and length provides flexibility to accommodate different size patients and enables easier access through doorways and in elevators during transport. Width adjustment is always available even during power outages.
POWER DRIVE*
Facilitates one person transport of patients weighing up to 454 kg (1000 lbs) depending on hospital protocol.

INTEGRATED WEIGH SCALE
Digital display weighs up to 454 kg (+/- 500 g). Patient weight is visually displayed for 10 seconds only to help protect patient dignity.

VARIABLE WIDTH & LENGTH
Citadel Plus incorporates 3 width expansion options.

SAFESET*
Provides visual alerts:
• Side rail position
• Brake status
• Bed height
• If VariZone is armed

COMPATIBLE SUPPORT SURFACES FOR PRESSURE REDISTRIBUTION*

HEAD OF BED ANGLE
Digital head of bed angle display. Automatic pause at 30 degree head elevation.


VARIZONE PATIENT MOVEMENT AND EXIT DETECTION
Can be set to alarm and detect when undesired movement of the patient occurs.

AES (ANTI-ENTRAPMENT SYSTEM)
Detects obstructions under the sleep deck during bed articulation and stops the downward movement of the bed.

ONE BUTTON CHAIR POSITION
The Citadel Plus can be articulated into a chair position lowering the legs and abdomen to help improve patient comfort.

*Optional

Electrical Data
Ingress protection
Ingress protection IPX4
Shock protection
Class 1, Type B Applied Part
EMC
IEC 60601-1-2:2014 + AMD1:2020
Power in (15 A)
15 A max at 115 VAC 60Hz
Power in (8 A)
8 A max at 230 VAC 50Hz
Power in (8 A)
8 A max at 230 VAC 60Hz
Duty Cycle
10% (2 min on, 18min off)
Battery backup
2 x 12v series connected, 26Ah
Dimensions
Overall standard length (HOD) cm
229 cm
Overall standard length (HOD) in
90.2 in
Overall standard width (HOB) cm
103 cm
Overall standard width (HOB) in
40.6 in
Mattress length standard mm
2140 mm
Mattress length standard in
84 in
Mattress width standard mm
1041 mm
Mattress width standard in
41 in
Overall width extended cm
134 cm
Overall width extended in
52,7 in
Mattress width extended mm
1219 mm
Mattress width extended in
48 in
Overall length, extended (HOD) cm
251 cm
Overall length, extended (HOD) in
98,8 in
Overall length, extended (HOB) mm
2240 mm
Overall length, extended (HOB) in
88 in
Mattress length, extended mm
2240 mm
Mattress length, extended in
88 in
Overall length, short (HOD) mm
2300 mm
Overall length, short (HOD) in
90,5 in
Overall length, short (HOB) mm
2020 mm
Overall length, short (HOB) in
80 in
Overall width short mm
1030 mm
Overall width short in
40,6 in
Mattress width short mm
864 mm
Mattress width short in
34 in
Mattress length short mm
2020 mm
Mattress length short in
80 in
Top height (with 150 mm castors) mm
800 mm
Top height (with 150 mm castors) in
31,5 in
Overall mid length cm
240 cm
Overall mid length in
94.5 in
In bed length standard cm
202 cm
In bed length standard in
80 in
In bed length mid cm
214 cm
In bed length mid in
84 in
In bed length extended cm
224 cm
In bed length extended in
88 in
Mattress width cm
88 cm
Deck Height (150mm / 6 in castors) cm
36 cm to 80 cm
Deck Height (150mm / 6 in castors) in
14.1 to 31.5 in
Overall width cm
103 cm
Overall width in
40.6 in
Product
Safe working load kg
552 kg
Safe working load lb
1150 lb
Maximum patient weight kg
454 kg
Maximum patient weight lb
1000 lb
Safety standard IEC
IEC 60601-1:2005 + AMD1:2012, IEC 60601-2-52:2009 + AMD1:2015
Safety standard ANSI/AAMI
ANSI/AAMI ES60601-1:2005 + AMD1:2012 *
Safety standard CAM/CSA
CAN/CSA-C22.2 No. 60601-1:14
Mattress thickness mm
150 mm
Mattress thickness in
6 in
Product weight (approx.) with Power Drive kg
360 kg
Product weight (approx.) with Power Drive lb
793 lb
Product weight (approx.) without Power Drive kg
306 kg
Product weight (approx.) without Power Drive lb
675 lb
Audible noise
<35dB
Base configuration
Head end panel 'off' deck (HOD)
Safety Standards
IEC 60601-1:2012 & 60601-2-52:2015
Electrical
Ingress protection
IPX4
Shock protection
Class 1, Type B Applied Part
Backup battery
2 x 12v series connected, 26Ah
EMC
Complies with EN 60601-1-2:2015
Angles
Head down tilt
12°
Foot down tilt
12°
Backrest angle
62°
Backrest pause
30°
Thigh angle
20°
Calf angle
16°
Patient weighing system
Minimum verification interval (scale division) g
500 g
Minimum verification interval (scale division) lb
1 lb
Minimum capacity kg
10 kg
Minimum capacity lb
22 lb
Maximum capacity kg
522 kg
Maximum capacity lb
1150 lb
Approvals 1
Directive 2014/31/EU, accuracy class lll
Scale rating 2
Class lll
1. Applicable for countries an associate in CEN region
-
2. Applicable to rest of world
-
AtmosAir Fit / AtmosAir Plus Instructions for use Mattress Replacement System
Type: Instructions for use (IFU)
Bariatric clinical focus
Type: Clinical | Clinical summary and/or focus document
Bariatric Solutions Brochure
Type: Sales | Leave behind / Brochure
Citadel Plus Bariatric Care System - Instructions for use
Type: Instructions for use (IFU)
Citadel Plus Bariatric Care System Quick reference guide Cleaning and Disinfection (A4, Portrait, Colour)
Type: Quick Reference Guide (QRG)
Citadel Plus Bariatric Care System Quick reference guide Controls (A4, Portrait, Colour)
Type: Quick Reference Guide (QRG)
Citadel Plus Bariatric Care System Quick reference guide Functions (A4, Portrait, Colour)
Type: Quick Reference Guide (QRG)
Citadel Plus Brochure
Type: Sales | Leave behind / Brochure
Citadel Plus ENT-ACC101 Trapeze mount assembly Instructions for use
Type: Instructions for use (IFU)
Citadel Plus Specification Sheet
Type: Sales | Specifications sheet / Flyer
ENT-ACC75 Socket adapter IFU
Type: Instructions for use (IFU)
Medical beds accessories Brochure
Type: Sales | Leave behind / Brochure
Universal Medical Beds Platform Brochure
Type: Sales | Leave behind / Brochure
Bariatric clinical focus
Type: Clinical | Clinical summary and/or focus document
Bariatric Solutions Brochure
Type: Sales | Leave behind / Brochure
Citadel Plus Brochure
Type: Sales | Leave behind / Brochure
Citadel Plus Specification Sheet
Type: Sales | Specifications sheet / Flyer
Medical beds accessories Brochure
Type: Sales | Leave behind / Brochure
Universal Medical Beds Platform Brochure
Type: Sales | Leave behind / Brochure
AtmosAir Fit / AtmosAir Plus Instructions for use Mattress Replacement System
Type: Instructions for use (IFU)
Citadel Plus Bariatric Care System - Instructions for use
Type: Instructions for use (IFU)
Citadel Plus Bariatric Care System Quick reference guide Cleaning and Disinfection (A4, Portrait, Colour)
Type: Quick Reference Guide (QRG)
Citadel Plus Bariatric Care System Quick reference guide Controls (A4, Portrait, Colour)
Type: Quick Reference Guide (QRG)
Citadel Plus Bariatric Care System Quick reference guide Functions (A4, Portrait, Colour)
Type: Quick Reference Guide (QRG)
Citadel Plus ENT-ACC101 Trapeze mount assembly Instructions for use
Type: Instructions for use (IFU)
ENT-ACC75 Socket adapter IFU
Type: Instructions for use (IFU)
Citadel plus demonstration video