Citadel Plus Bariatric Care System
Preserving dignity for patients of size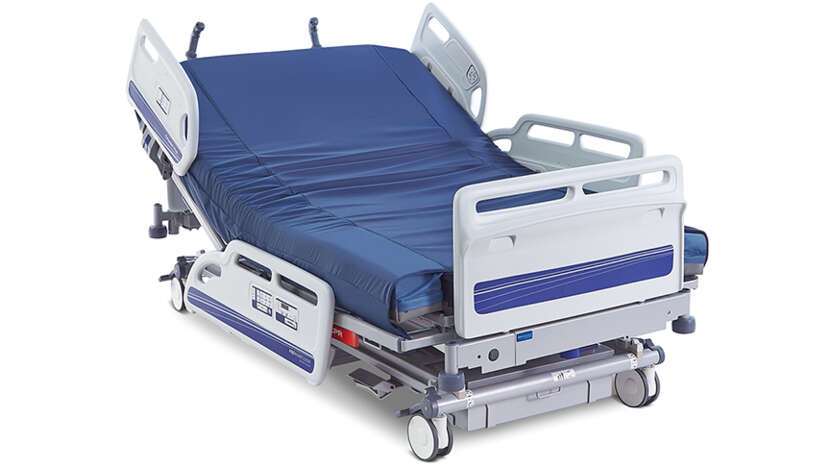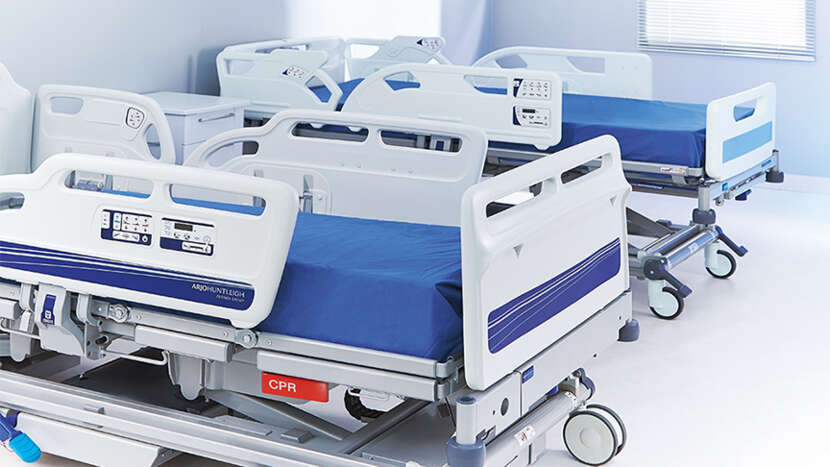 Maintaining patient dignity is vitally important for caregivers. This is especially so for patients of size who dislike the extra attention and perceived stigma associated with use of specialist bariatric equipment while in the hospital.
The Citadel Plus Bariatric Care System has been designed to blend in with other beds used in the care environment to help preserve the patients sense of dignity while delivering the functionality required by caregivers to manage patients weighing up to 454 kg (1000 lbs).
Citadel Plus provides flexible, safe and efficient patient care
The bed is the centre of care during a hospital stay, providing a platform for patient recovery while helping reduce the risk of patient and caregiver injury. Citadel Plus is purpose-built for hospitals demanding the highest levels of safety and efficiency from their beds and therapeutic surfaces.
Patient and caregiver safety
Power Drive*
• Facilitates one person transport of patients weighing up to 454 kg (1000 lbs) depending on hospital protocol.
• Can help reduce the risk of work-related injuries and help increase efficiency.
VariZone Patient Movement and Exit Detection
Can be set to alarm and detect when undesired movement of the patient occurs. Sensitivity of the system can be adjusted and is bespoke to each patient.
AES (Anti-Entrapment System)
AES detects obstructions under the sleep deck during bed articulation and stops the downward movement of the bed to help prevent injury to a person or damage to other equipment.
SafeSet*
Provides visual alerts on 4 bed safety conditions to help staff provide a safe environment especially for those patients identified at risk from falls:
• side rail position
• brake status
• bed height
• if VariZone is armed
*Optional
Variable width & length
• Citadel Plus incorporates 3 width expansion options. Variable width and length provides flexibility to accommodate different size patients and enables easier access through doorways and in elevators during transport. Width adjustment is always available even during power outages.

Integrated weigh scale
• Digital display weighs up to 454 kg (+/- 500 g). The Auto-Compensation feature allows objects to be added or removed without impacting the patient's weight reading. Patient weight is visually displayed for 10 seconds only to help protect patient dignity.

Head of bed angle
• Digital head of bed angle display provides clear information to assist caregivers in appropriate patient positioning. Automatic pause at 30 degree head elevation helps remind caregivers when this important angle has been reached.

One Button Chair Position
• The Citadel Plus can be articulated into a chair position lowering the legs and abdomen to help improve patient comfort.

Compatible support surfaces for pressure redistribution*
• Auralis® Plus and AtmosAir Velaris® Plus support surfaces provide pressure redistribution for patients of size, and are compatible with the Citadel Plus.

Integrated microclimate control*
• Citadel Plus features a dedicated port to power the Skin IQ® 1000* coverlet, which uses Negative Airflow Technology® (NAT) to continually draw away excess moisture and help regulate temperature at the skin/surface interface (microclimate).

Standardizing efficiency
• Consistency in use of technology, many functionalities and accessories across the Enterprise® and Citadel product lines, provide opportunities for economies of scale which could have a positive impact on organisational costs.

Ease of maintenance
• Standardized architecture ensures ease of maintenance for service personnel by providing consistent methods to perform common service tasks.

Reduced training time
• Standardization of many of the controls and user interfaces across the Citadel and Enterprise lines can help reduce the training burden for busy caregivers and hospital service personnel.

*Optional
Dimensions
Overall standard length (HOD) mm
2400 mm
Overall standard length (HOD) in
94,5 in
Overall standard height (HOB) mm
2140 mm
Overall standard height (HOB) in
84 in
Overall width mm
1180 mm
Overall width in
46,6 in
Mattress length standard mm
2140 mm
Mattress length standard in
84 in
Mattress width standard mm
1041 mm
Mattress width standard in
41 in
Overall width extended mm
1340 mm
Overall width extended in
52,6 in
Mattress width extended mm
1219 mm
Mattress width extended in
48 in
Overall length, extended (HOD) mm
2500 mm
Overall length, extended (HOD) in
98,5 in
Overall length, extended (HOB) mm
2240 mm
Overall length, extended (HOB) in
88 in
Mattress length, extended mm
2240 mm
Mattress length, extended in
88 in
Overall length, short (HOD) mm
2300 mm
Overall length, short (HOD) in
90,5 in
Overall length, short (HOB) mm
2020 mm
Overall length, short (HOB) in
80 in
Overall width short mm
1030 mm
Overall width short in
40,6 in
Mattress width short mm
864 mm
Mattress width short in
34 in
Mattress length short mm
2020 mm
Mattress length short in
80 in
Top height (with 150 mm castors) mm
800 mm
Top height (with 150 mm castors) in
31,5 in
Product
Safe working load kg
522 kg
Safe working load lb
1150 lb
Maximum patient weight kg
454 kg
Maximum patient weight lb
1000 lb
Safety standard IEC
IEC60601-2-52-2009
Safety standard ANSI/AAMI
ANSI/AAMI ES60601-1-2005
Safety standard CAM/CSA
CAM/CSA C22 2 60601-1-DB
Mattress thickness mm
150 mm
Mattress thickness in
6 in
Product weight (approx.) with Power Drive kg
360 kg
Product weight (approx.) with Power Drive lb
793 lb
Product weight (approx.) without Power Drive kg
306 kg
Product weight (approx.) without Power Drive lb
675 lb
Audible noise
<35dB
Electrical
Ingress protection
IPX4
Backup battery
2 x 12 V series connected, sealed, rechargeable lead/acid gel, 26Ah
Angles
Head down tilt
12°
Foot down tilt
12°
Patient weighing system
Minimum verification interval (scale division) kg
0,5 kg
Minimum verification interval (scale division) lb
1 lb
Minimum capacity kg
10 kg
Minimum capacity lb
22 lb
Maximum capacity kg
522 kg
Maximum capacity lb
1150 lb
Arjo.Citadel Plus Brochure.3.0.INT.EN
Type: Sales | Leave behind / Brochure
AtmosAir Fit / AtmosAir Plus Instructions for use Mattress Replacement System
Type: Instructions for use (IFU)
Bariatric clinical focus
Type: Clinical | Clinical summary and/or focus document
Bariatric Solutions Brochure
Type: Sales | Leave behind / Brochure
BariatricPortfolio leaflet HCP
Type: Sales | Specifications sheet / Flyer
Citadel Plus Bariatric Care System Quick reference guide Cleaning and Disinfection (A4, Portrait, Colour)
Type: Quick Reference Guide (QRG)
Citadel Plus Bariatric Care System Quick reference guide Controls (A4, Portrait, Colour)
Type: Quick Reference Guide (QRG)
Citadel Plus Bariatric Care System Quick reference guide Functions (A4, Portrait, Colour)
Type: Quick Reference Guide (QRG)
Citadel Plus Bariatric Care System Quick reference guide Use (A4, Landscape, Colour)
Type: Quick Reference Guide (QRG)
Citadel Plus Brochure 8 pages
Type: Sales | Leave behind / Brochure
Citadel Plus Brochure 8 pages GB
Type: Sales | Leave behind / Brochure
Citadel Plus ENT-ACC101 Trapeze mount assembly Instructions for use
Type: Instructions for use (IFU)
ENT-ACC75 Socket adapter IFU
Type: Instructions for use (IFU)
Medical beds accessories Brochure
Type: Sales | Leave behind / Brochure
Universal Medical Beds Platform Brochure
Type: Sales | Leave behind / Brochure
Arjo.Citadel Plus Brochure.3.0.INT.EN
Type: Sales | Leave behind / Brochure
Bariatric clinical focus
Type: Clinical | Clinical summary and/or focus document
Bariatric Solutions Brochure
Type: Sales | Leave behind / Brochure
BariatricPortfolio leaflet HCP
Type: Sales | Specifications sheet / Flyer
Citadel Plus Brochure 8 pages
Type: Sales | Leave behind / Brochure
Citadel Plus Brochure 8 pages GB
Type: Sales | Leave behind / Brochure
Medical beds accessories Brochure
Type: Sales | Leave behind / Brochure
Universal Medical Beds Platform Brochure
Type: Sales | Leave behind / Brochure
AtmosAir Fit / AtmosAir Plus Instructions for use Mattress Replacement System
Type: Instructions for use (IFU)
Citadel Plus Bariatric Care System Quick reference guide Cleaning and Disinfection (A4, Portrait, Colour)
Type: Quick Reference Guide (QRG)
Citadel Plus Bariatric Care System Quick reference guide Controls (A4, Portrait, Colour)
Type: Quick Reference Guide (QRG)
Citadel Plus Bariatric Care System Quick reference guide Functions (A4, Portrait, Colour)
Type: Quick Reference Guide (QRG)
Citadel Plus Bariatric Care System Quick reference guide Use (A4, Landscape, Colour)
Type: Quick Reference Guide (QRG)
Citadel Plus ENT-ACC101 Trapeze mount assembly Instructions for use
Type: Instructions for use (IFU)
ENT-ACC75 Socket adapter IFU
Type: Instructions for use (IFU)
Citadel plus demonstration video