Emma
This resident/patient is incapable of performing daily activities independently or actively contributing to them.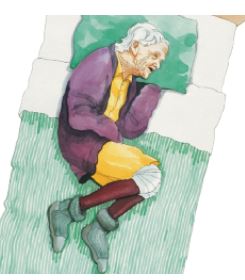 Assistance would, if provided without special precautions, lead to the risk of physically overloading the caregiver. Equipment should be used to eliminate this risk. This resident/patient is unable to actively contribute to the movement.
In Emma's case, it is no longer considered important that she be stimulated to contribute to the movement and become active. In some cases, such as residents/patients in the terminal stages of cancer or Alzheimer's dementia, this active contribution may even have to be avoided or may be undesirable. However, a resident/patient choosing to save his energy for visitors and remain passive during the care process could also belong to this group.
Promoting or stimulating mobility and activating the resident/patient are no longer goals in the care plan. Providing optimum care and/or preventing complications due to immobility, e.g. good skincare, should be given priority. Emma is transferred with the help of equipment, such as a sling lift.
The goal is to avoid complications caused by long-term bed confinement and make her as comfortable as possible.
Characteristics:
Might be almost completely bedridden, can sit out only in special chair
Always dependent on caregiver
A high risk of dynamic and static overload for staff when not using proper aids
Stimulation of functional mobility is not a primary goal