How a lack of assistive equipment can be a barrier to mobility in the ICU
---
2023-06-27T20:00:00.0000000Z
Early mobilization of ICU patients has been associated with improved muscle strength and functional independence, as well as a shorter duration of delirium, mechanical ventilation, and ICU length of stay.1-5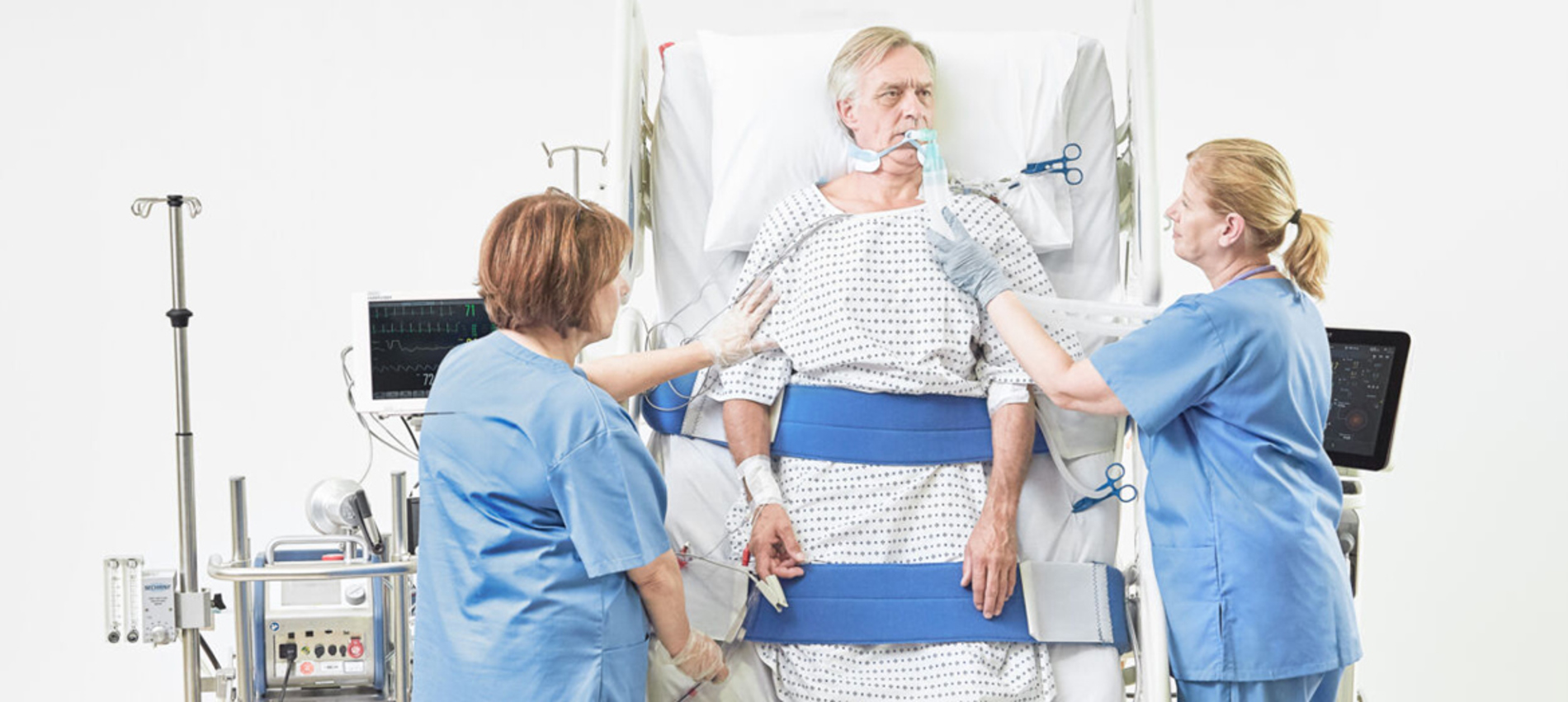 Despite compelling evidence of the benefits of early mobility in the ICU, adoption remains slow. Many ICU's who promote an early mobility culture focus their efforts on in bed mobility activities and extend their practice less frequently to out of bed exercise and rehabilitation.
A recent article⁶ examined data from 40 studies reporting several barriers to early mobility. Those identified varied across ICU's and within disciplines, were dependent on the ICU patient population, setting, and ICU culture. Most barriers were deemed modifiable and appropriate strategies were identified.
Perceived risk of injury to patients and staff is an important consideration and often acts as a barrier to implementation of early mobility and rehabilitation activities. One common barrier voiced by ICU clinicians relates to the lack of equipment available within their ICU to help facilitate early mobility safely and often for their patients. Having access to appropriate equipment and training to support early mobility strategies could help improve adoption.
The process of sitting on the edge of the bed is usually a key first step in the out of bed mobility process. This can at times be labor intensive, particularly for patients who are obese, of low arousal or with profound ICU-Acquired Weakness, where it may take multiple members of staff to transfer the patient to the edge of the bed. Alternatively, factors such as a poorly tolerated airway, multiple attachments including positional femoral lines, low dose inotropic support, and postural hypotension may raise safety concerns around the process of moving a patient to sitting on the edge of the bed.
As patients improve, progression can be made to more active transfers out of bed. This can be facilitated by utilizing equipment such as hoists or lateral transfer devices initially, until assisted standing transfers to the chair can be achieved.
As the patient continues to progress, they may be able to achieve a full standing position but not quite have the ability to take any steps. This can often be a frustrating time for the patient and place a risk for staff in any subsequent attempts at stepping to a chair. In this situation a mobility solution to allow patients to stand and be transferred to a chair with minimal caregiver assistance would be required.


ICU Early Mobility Solution Clinical Evidence
Early mobilization has been demonstrated to be safe and feasible for patients admitted to critical care. Implementing programs of early mobility has shown numerous benefits for both patients and healthcare organizations. It is now included as a key component in national protocols and international guidelines7-9.
Download our ICU early mobilization clinical evidence summary. You will learn about:
Key body systems impacted by immobility in critically ill patients
The benefits of and barriers to early mobilization
Assessment of patient readiness for mobility
Methods and solutions from in-bed to out-of-bed mobilization
Meet with Our Experts
Embracing early mobility as a fundamental pillar of rehabilitation for US veterans is an opportunity to optimize their recovery journey and enhance their overall well-being. To benefit from our Early Mobility Solution and provide the best care for our veterans, book a demonstration of our Early Mobility solutions with our experts. We look forward to assisting you in providing exceptional care to our esteemed veterans.
Experience our products firsthand by booking a demonstration of our Early Mobility Solutions.
References:
Adler J, Malone D. Early mobilization in the intensive care unit: a systematic review. Cardiopulm Phys Ther J 2012;23:5–13.
Li Z, Peng X, Zhu B, Zhang Y, Xi X. Active mobilization for mechanically ventilated patients: a systematic review. Arch Phys Med Rehabil 2013;94:551–561.
Stiller K. Physiotherapy in intensive care: an updated systematic review. Chest 2013;144:825–847.
Kayambu G, Boots R, Paratz J. Physical therapy for the critically ill in the ICU: a systematic review and meta-analysis. Crit Care Med 2013;41:1543–1554.
Cameron S, Ball I, Cepinskas G, Choong K, Doherty TJ, Ellis CG, Martin CM, Mele TS, Sharpe M, Shoemaker JK, et al. Early mobilization in the critical care unit: a review of adult and pediatric literature. J Crit Care 2015;30:664–672.
Dubb R, Nydahl P, Hermes C et al Barriers and Strategies for Early Mobilization of Patients in Intensive Care Units. Ann Am Thorac Soc Vol 13, No 5, pp 724–730, May 2016.
National Institute for Health and Care Excellence [NICE]. (2009) Rehabilitation after critical illness. London: NICE (Nice guideline no 83)
Baron R, Binder A, Biniek R, et al. Evidence and consensus based guideline for the management of delirium, analgesia, and sedation in intensive care medicine. (DAS- Revised Guideline 2015) - short version. Ger Med Sci. 2015 Nov 12;13:Doc19.
Devlin JW, YOanna S, Gelinas C, et al. Clinical Practice Guidelines for the Prevention and Management of Pain, Agitation/Sedation, Delirium, Immobility, and Sleep Disruption in Adult Patients in the ICU. Critical care Medicine. 2018; 46(9)