The Mobility Gallery™
The Mobility Gallery™ is an assessment tool based on five different levels of mobility, named in alphabetic order from A to E.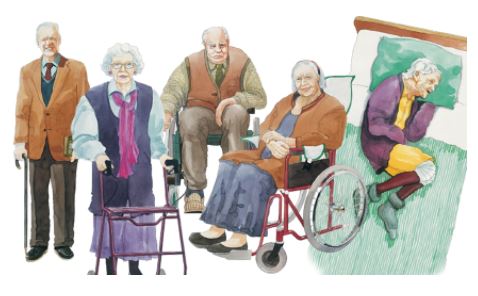 The Mobility Gallery™ is an assessment and communication tool based on different levels of functional mobility; from completely mobile and independent patients/residents to those who are entirely bedridden, named in alphabetic order from Albert to Emma.
The Mobility Gallery™ will aid development of a higher standard of care, stemming from insight into – and monitoring of – the requirements and preconditions for this type of care, as well as for the well-being of caregivers. Choices relating to care are mostly based on patient/resident assessments, and we must recognize the fact that there is no such thing as a typical patient/resident. In order to plan our patients'/residents' care, these choices need to be conscious and well balanced. In other words, as well as tailoring care to the individual, there also needs to be some sort of standardization and classification system.
The five levels of mobility are the basis of the Mobility Gallery™. Stimulating mobility and ultimately respecting passivity is crucial from a quality of care perspective.
Background information about the Mobility Gallery™
Clinicians recognize the fact that comprehensive functional assessment of patients/residents is central to maximizing their physical and cognitive functionality and their quality of life (Hawes et al, 1997) and there are studies that empirically support this.
Introducing the Resident Assessment Instrument (RAI) assessment system significantly improved patient/resident outcomes in four crucial areas: ADL function, cognitive function, urinary continence, and social engagement (Phillips et al,1996).
There was also an increase in the assessment of potential for improved functionality in residents. Development of the Arjo Mobility Gallery is partly based on this RAI (Knibbe et al, 1998), which was later validated and included in ISO/TR 12296:2012.