It's been three years since Peter Genyn won gold in the Paralympic games in Rio...
As he adjusts the gearing on his lightweight wheelchair and checks for the third time that the steering is in place, it is difficult not to get the sense that for Peter, 2016 was just yesterday. It is a crisp spring morning and the sky above the Gran Canaria is crystal clear, the warm climate providing the perfect conditions for Peter's demanding training regime.
This is no holiday: Peter is hard at work in preparation for the next games in 2020. The schedule is unforgiving, but as an elite athlete and world record holder in his class, he is unwavering in his focus. He is relaxed and genial between exercises and laps of the track, but there is no mistaking the steely determination behind his easy smile.
'It's an outlet,' he grins. 'I'm someone that needs sports. It brings out the best in you. I really need that. You watch your food, you do anything you can to be good on that day because those 20 seconds are so important. You work for it for four years. You don't want to screw it up.'
Peter competes in the T51 class; the most severely disabled athletic class of the games. The Paralympic committee describes athletes in the category as "wheelchair competitors who have mild weakness in shoulders, limited ability in straightening elbows and wrist function, no finger, trunk or leg function." In this class, he currently holds the 200-metre, and the 400-metre world record.
'I held the 100-metre world record for about a week,' he laughs.
The footage of Peter's winning race in the men's 100-metre final is phenomenal viewing, testament to human endeavour against the odds and just what our bodies are capable of regardless of impairment. It is a sobering thought that a pressure injury nearly ended his chances.
'A pressure sore can make or break,' he is suddenly serious. 'It can make you lose a championship.'
Peter's disability came as the result of a freak accident when he was a teenager. 'I was 16,' He explains. 'At that point, my parents were rebuilding our house and there was a big pond in the garden and we thought we could make it to the swimming pool. It was the last week of vacation in the summer holiday, so we emptied it and put new plastic in it and started to fill it with ground water. The next morning, I just ran up to it and dove in. But it turned out that the pool was about two and a half meters deep but there was about no water in it. I dove in straight with my head, so I hit the bottom and broke my neck in the process.'
Peter is calm as he tells the story, his voice betraying little emotion as he recounts the facts of the horrific accident. Sitting on the beach not far from Las Palmas, watching the sun set across the Atlantic Ocean, it's a surreal experience to hear him describe the accident in these beautiful surroundings. The impact of his fall, head first into the hard ground, resulted in two broken vertebrae, leaving him paralysed from the chest down.
'Your life completely changes,' he explains. 'One minute, you're a student with no worries, the next you're in hospital with a broken neck. I think the strength to pull through is built in. Everybody has that and everybody who has a serious accident will work to get through it because it's just human nature. You want to pull through.'
Even as he came to terms with his sudden disability, it wasn't long before Peter started to explore the possibilities of his new life. In just a few weeks into his rehabilitation, he was already looking into the sports his disability would allow him to play. After some years playing wheelchair rugby, a chance injury led him to try wheelchair racing. In just a few months, he was soon competing at European championship level.
'It's not something you plan,' he shrugs. 'You train more and more, you get better and better. And then at one point, it gets out of hand. You don't intentionally go to that level.'
After nearly 10 years competing at an elite level, there are many health risks Peter must be wary of. Pressure injuries are high on the list.
'I fear pressure sores a lot,' he says. 'In hospital and rehab, they showed me pictures of how bad it can be; and you really don't want that.'
At first Peter thought the small wound on his back was just a pimple. It didn't take him long to realise just how dangerous it could be.
'It was on my tailbone. It's just the place where you always sit, so it's a very dangerous spot. But it was very small: I think two or three millimetres bit and two or three millimetres deep. It was very small but I wanted to make sure it didn't get any bigger so I spent a lot of time on my bed. When I first went to the hospital with my pressure sore, they told me I should get a better mattress for my bed. They gave me a contact number for Arjo, so I called them up and, I believe the same day, they brought me a test mattress. I've been using them ever since.'
Even though Peter's wound healed quickly, the impact to his training regime was significant. Weeks of bed-rest meant there was no chance of working out or practicing on the track. He had little choice but to be patient and rest up. Peter is under no illusions as the potential consequences the wound may have had if it had developed in the weeks leading up to the games.
'If I would have had a pressure sore during Rio, I wouldn't have been able to win my medal,' he explains earnestly. 'You can't train the way you should. You just can't get up to the level.
Peter will remain on Gran Canaria for the next two weeks, spending his days on the track, perfecting his technique and maintaining his impeccable level of fitness. In this beautiful place, he will have little time for recreation.
'My next big goal is Tokyo,' he says. 'We're already working towards that. But this year we also have the European championships and next year we have the world championships where I hope to qualify for the Paralympic games.'
After so many years at the top of his sport, what keeps Peter Genyn so motivated?
'Sometimes you win and sometimes you lose', he grins. 'It helps if you stay strong, mentally. Because if you lose it mentally, you will never win the race.'
Watch the full video below: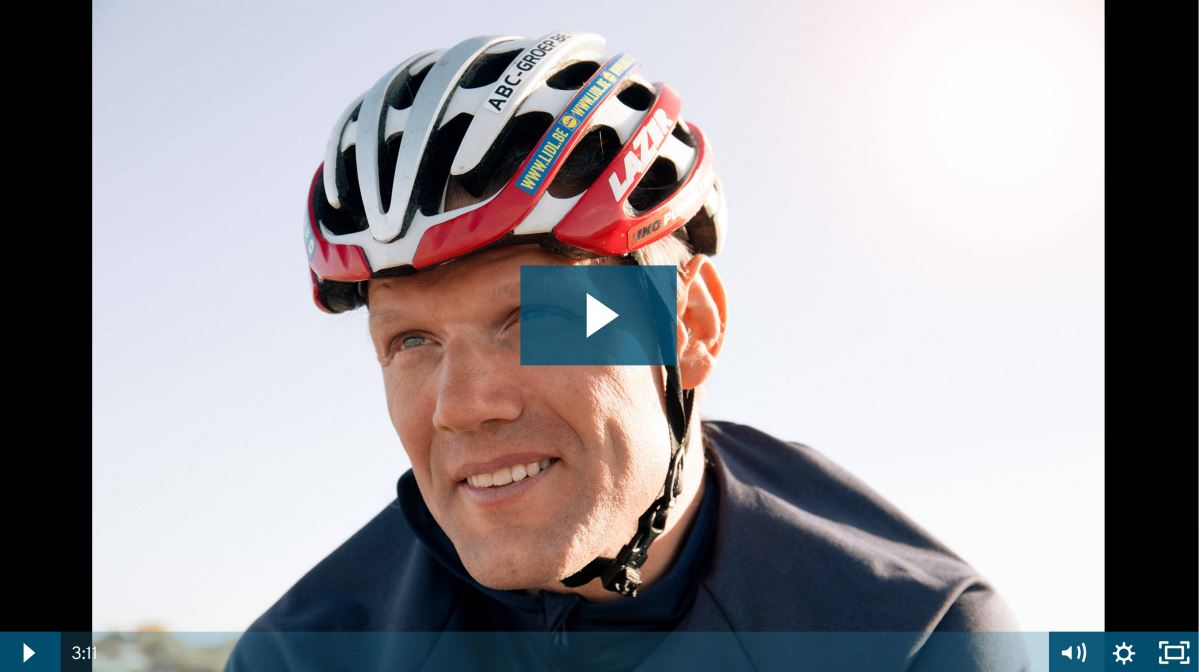 Pressure injury prevention
Pressure injuries continue to be a serious challenge across all care environments. With increased age, rising acuity levels, complex underlying diseases, and decreased mobility levels, the risk for developing pressure injuries increases significantly.