Maxi Sky 2 Plus
Versatile and complete lift system for plus size patients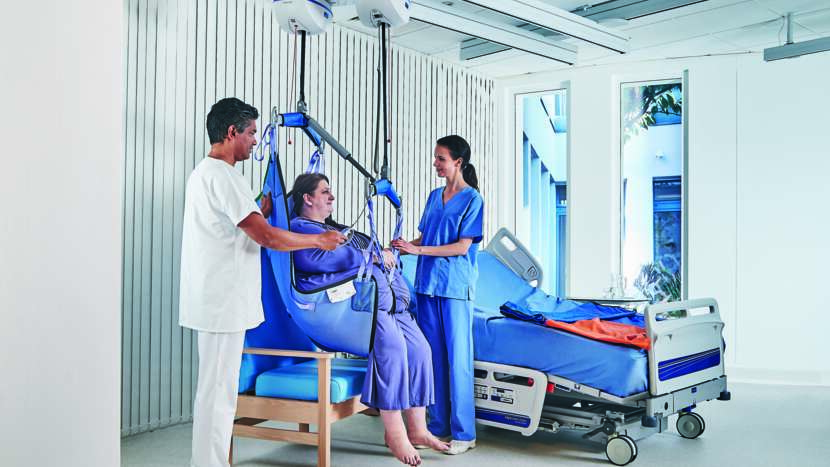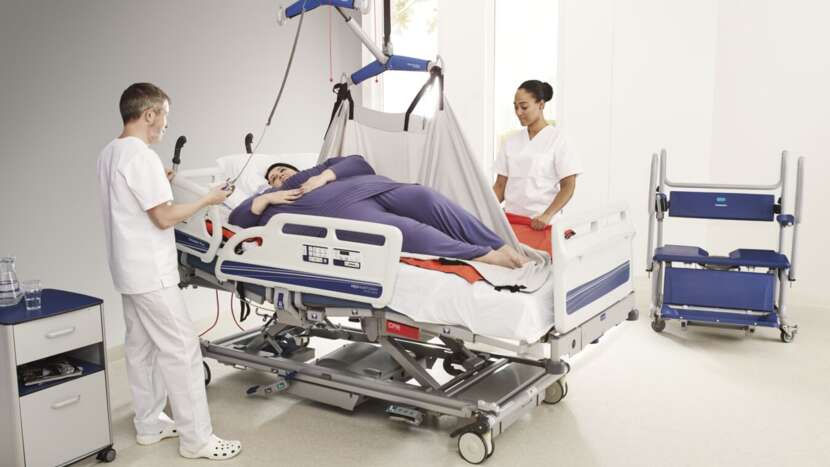 Our Bariatric Room Solutions ensure your healthcare facilities are equipped for the increasing challenges of plus size patients and ready to deliver safe, cost efficient and dignified patient care.
Designed with patients and residents in mind
Patients of larger stature have the right to be treated with comfort and dignity. Maxi Sky 2 Plus makes it possible to deliver this for non-ambulatory plus size patients (up to 454 kg/1000 lb).
Maxi Sky 2 Plus features and benefits
Simple for the caregivers
The four point telescopic spreader bar for plus-size patients is easy to maneuver and provides automatic adjustment to the patient's size and position. It can be used to lift, transfer, turn and reposition plus-size patients using the Arjo range of bariatric slings.
Flexibility to meet your care setting needs
The different body shapes of plus-size patients require bariatric sling solutions. Arjo has developed a range of sling types in four sizes to suit these various needs. When used in "Single Mode", Maxi Sky 2 Plus is completely compatible with the Maxi Sky 2 slings and spreader bar portfolio, including the powered dynamic positioning system (PDPS), allowing your care setting to maximise the use of this ceiling lift system in patients of various sizes.
Maxi Sky 2 Plus specification
Weight and dimensions
Product A
Dual Mode
Lifting Capacity kg
454 kg
Lifting Capacity lb
1000 lb
Lifting Speed
4.3 cm/sec
Maximum Stroke (from ceiling) mm
2300 mm
Maximum Stroke (from ceiling) in
90,6 in
Product B
Single Mode
Lifting Capacity kg
272 kg
Lifting Capacity lb
600 lb
Lifter weight (standard) kg
51,6 kg
Lifter weight (standard) lb
113,5 lb
Operating force of control
<5N
Strap Length mm
2500 mm
Strap Length in
98,4 in
Electrical
Lifter protection class
IP24
Hand control protection class
IP7
Battery Charger Input
100-240 VAC, 50-60 Hz, 57 - 70 VA
Battery charger safety protection
Class 2 Double Insulated
Bariatric clinical focus
Type: Clinical | Clinical summary and/or focus document
Bariatric Solutions Brochure
Type: Sales | Leave behind / Brochure
Ceiling Lifts and Tracking Catalog
Type: Sales | Sales support material
Ceiling lifts leave behind
Type: Sales | Leave behind / Brochure
Ceiling lifts Quick reference guide
Type: Quick Reference Guide (QRG)
Maxi Sky 2 Plus Instructions for use
Type: Instructions for use (IFU)
Maxi Sky 2 Plus Instructions for use (North America)
Type: Instructions for use (IFU)
Maxi Sky 2 Plus Quick reference guide
Type: Quick Reference Guide (QRG)
Maxi Sky 2 Plus Quick reference guide - Cleaning and disinfection (A4, Portrait, Colour)
Type: Quick Reference Guide (QRG)
Maxi Sky 2 Plus Quick reference guide - Functions (A4, Portrait, Colour)
Type: Quick Reference Guide (QRG)
Maxi Sky 2 Plus Quick reference guide - Use
Type: Quick Reference Guide (QRG)
Maxi Sky 2 Plus Specification Sheet
Type: Sales | Specifications sheet / Flyer
Refer to the Instructions for use of the lifter Leaflet
Type: Instructions for use (IFU)
Bariatric clinical focus
Type: Clinical | Clinical summary and/or focus document
Bariatric Solutions Brochure
Type: Sales | Leave behind / Brochure
Ceiling Lifts and Tracking Catalog
Type: Sales | Sales support material
Ceiling lifts leave behind
Type: Sales | Leave behind / Brochure
Maxi Sky 2 Plus Specification Sheet
Type: Sales | Specifications sheet / Flyer
Ceiling lifts Quick reference guide
Type: Quick Reference Guide (QRG)
Maxi Sky 2 Plus Instructions for use
Type: Instructions for use (IFU)
Maxi Sky 2 Plus Instructions for use (North America)
Type: Instructions for use (IFU)
Maxi Sky 2 Plus Quick reference guide
Type: Quick Reference Guide (QRG)
Maxi Sky 2 Plus Quick reference guide - Cleaning and disinfection (A4, Portrait, Colour)
Type: Quick Reference Guide (QRG)
Maxi Sky 2 Plus Quick reference guide - Functions (A4, Portrait, Colour)
Type: Quick Reference Guide (QRG)
Maxi Sky 2 Plus Quick reference guide - Use
Type: Quick Reference Guide (QRG)
Refer to the Instructions for use of the lifter Leaflet
Type: Instructions for use (IFU)
Bariatric Room Solutions Introduction Video
Maxi Sky 2 Plus - Demonstration video