Lengthy prone positioning increases risk of pressure injury
The adoption of prone positioning in critical care has resulted in many benefits. However, residents who stay in the same position for too long are at a greater risk of developing a pressure injury.1 This risk can be reduced with regular repositioning, an appropriate support surface and, of course, by maintaining mobility.2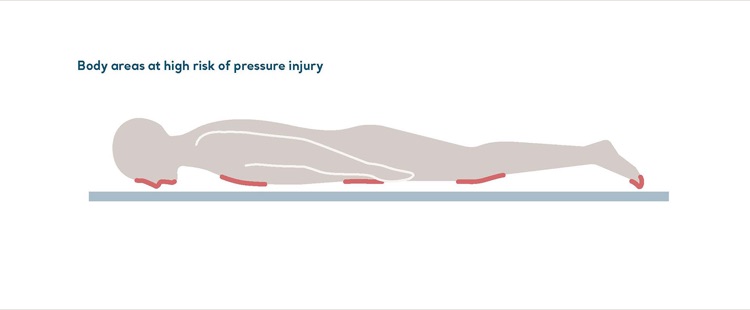 Repositioning solutions
Repositioning reduces the duration and magnitude of pressure across the body, contributing to patient comfort, hygiene, dignity and functional ability.1 Regular repositioning helps prevent pressure injuries to patients who are immobile due to acute illness, isolation or connection to a respirator. Our patient handling aids make it easier to carry out repositioning to reduce the risk of injury to caregivers, residents and patients.

Reduce risk of ventilator-associated pneumonia
Our universal medical bed platform complies with WHO recommendations to keep Covid-19 patients in a semi-recumbent position. A head-of-bed elevation of 30-45 degrees reduces the risk of ventilator-associated pneumonia.

Microclimate Management
Our Skin IQ™ microclimate cover is compatible with a wide variety of pressure redistribution mattresses. Find out more about the Skin IQ

Manage vulnerable areas of the body
The Nimbus® Professional exemplifies our approach to pressure redistribution. Caregivers can deflate individual mattress cells beneath the patient to help manage vulnerable areas of the body. Clinical studies on the Nimbus product range consistently demonstrate excellent outcomes for the most vulnerable patients or those with existing wounds.3-10 You can find out more about the Nimbus Professional along with our other pressure injury prevention solutions here.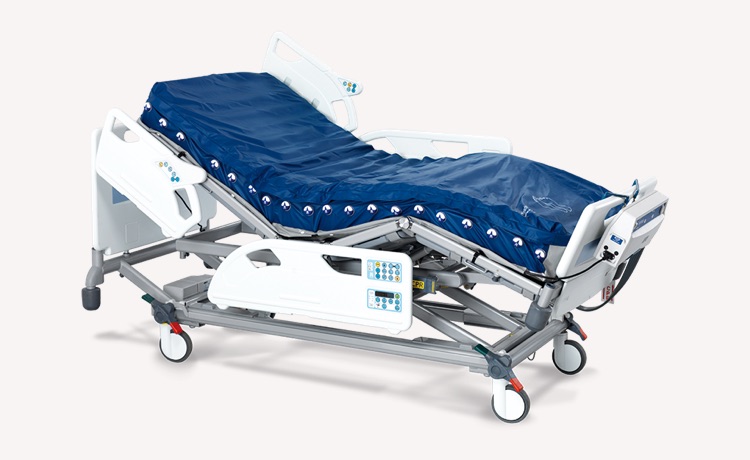 1. Girard R, Baboi L, et al The impact of patient positioning on pressure ulcers in patients with severe ARDS: results from a multicentre randomised controlled trial on prone positioning, Intensive Care Med (2014) 40:397–403.
2. Haesler E (Ed.). European Pressure Ulcer Advisory Panel, National Pressure Injury Advisory Panel, Pan Pacific Pressure Injury Alliance. Prevention and Treatment of Pressure Ulcers/Injuries: Clinical Practice Guideline. The International Guideline 2019.
3. Ward C, Wubbels M, Schembri L. Using Complete Pressure Off-loading and Advanced Wound Care to Treat a Complex Sacral Pressure Ulcer. Poster Presentation. 2012.
4. Clancy J. Winning the war against pressure ulcers. Poster presentation. 2011.
5. Malbrain M, Hendriks B, Wijnands P et al. A pilot randomised controlled trial comparing reactive air and active alternating pressure mattresses in the prevention and treatment of pressure ulcers among medical ICU patients. Journal of Tissue Viability. 2010; 19(1):7-15.
6. Finnegan MJ. Comparing the effectiveness of a specialised alternating air pressure mattress replacement system and an air fluidised integrated bed in the management of post- operative flap patients. A randomised controlled study. Journal of Tissue Viability. 2008; 17(1).
7. Russell L, Reynolds TM. Randomised controlled trial of two pressure relieving systems. Journal of Wound Care. 2000; 9(2):52-55.
8. Evans D, Land L, Geary A. A clinical evaluation of the Nimbus 3 alternating pressure mattress replacement system. Journal of Wound Care. 2000; 9(4):181-186.
9. Land L, Evans D, Geary A et al. A clinical evaluation of an alternating pressure mattress replacement system in hospital and residential care settings. Journal of Tissue Viability. 2000; 10(1):6-11.
10. Phillips L. Nimbus range of pressure redistributing mattresses. Wounds UK, 2010; 6 (2):116-122.