MaxiSlide Flites
Premium resident/patient specific disposable tubular slides and flat sheets with handles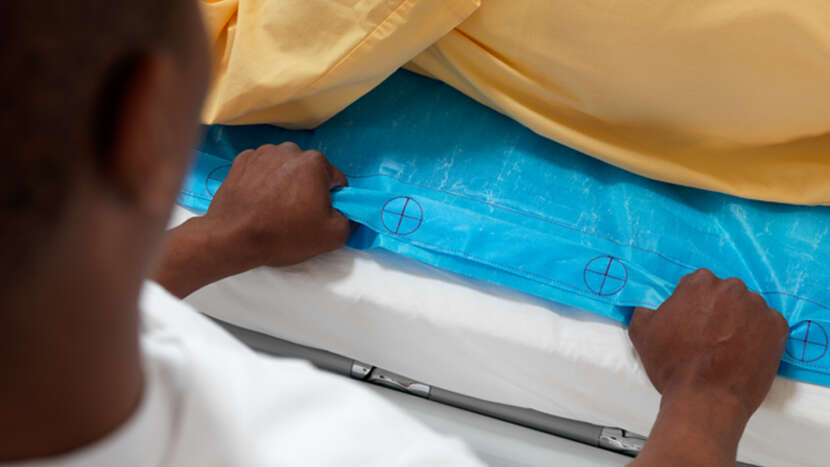 MaxiSlide Flites are patient/resident-specific tubular slides and flat sheets with built-in handles.
• Cross-contamination prevention
As a patient-specific product, MaxiSlide Flites offer a solution for busy care environments concerned about reducing cross-contamination. Every sliding aid comes individually wrapped in a heat-sealed plastic bag. The product is not designed to be
laundered.
• Prevent caregiver injuries by reducing physical effort
Assisted in-bed repositioning tasks expose caregivers and patients at risk of injury. Our MaxiSlide Flites are made from a high-strength, latex-free, low-friction material enabling multidirectional movement within the bed for a variety of repositioning tasks. Use of slide sheets for in-bed repositioning has shown to reduce caregiver exposure to excessive push and pull forces in addition to reduce injury to patients associated with shear and friction when repositioning without slide sheets.
All MaxiSlide Flites are full bed length, which eliminates the need
for additional tubes and flat sheets

PATIENT IDENTIFICATION TAG
Each MaxiSlide Flite has a tag to write the patient's name on and a green water-soluble label, which will dissolve if the sheet is laundered, offering you a visible indication when not to use the sheet.

DISPOSABLE PULL STRAPS
The disposable pull straps can be attached
to the sheets for lateral transfers avoiding
caregivers having to overreach, thereby
reducing the risk of injury.
STRONG BUILT-IN HANDLES
The built-in reinforced handles offer
something to hold during patient transfers.
Weight and dimensions
Product A
MaxiSlide Flite
Length mm
1960 mm
Length in
77 in
Width mm
760 mm
Width in
30 in
Product B
MaxiSlide Flite XL
Length mm
1960 mm
Length in
77 in
Width mm
1140 mm
Width in
45 in
Product C
MaxiSlide Flite XXL
Length mm
1960 mm
Length in
77 in
Width mm
1520 mm
Width in
60 in
Product D
Pull straps
Length mm
800 mm
Length in
31 1/5 in
Width mm
40 mm
Width in
1 1/2 in
Product E
MaxiTube Half Flite
Length mm
980 mm
Length in
39 in
Width mm
980 mm
Width in
39 in
Product F
MaxiTube Flite
Length mm
1960 mm
Length in
77 in
Width mm
760 mm
Width in
30 in
Product G
MaxiTube Flite XL
Length mm
1960 mm
Length in
77 in
Width mm
1155 mm
Width in
45 1/2 in