Prone positioning with Arjo helps to:
1. Lower the risk of musculoskeletal injury and improve care efficiency

Patient handling solutions assist you in mitigating the risk of injury to caregivers and improve efficiency during prone positioning¹⁻² by:
Reducing physical effort
Lowering the number of caregivers required
Enabling caregivers to carry out the manoeuvre in a controlled manner
2. Enable safe and controlled patient positioning

Using a passive lift to assist with patient positioning:
Provides greater control for safe and gentle positioning of the patient
May help reduce the risk of adverse events during patient positioning
3. Prevent pressure injury

As patients often spend in excess of 16 hours per day in the prone position,³ the prevention of pressure injuries has never been more important.
The utilisation of an appropriate support surface to provide pressure redistribution, microclimate management, and other therapeutic functions is a key intervention.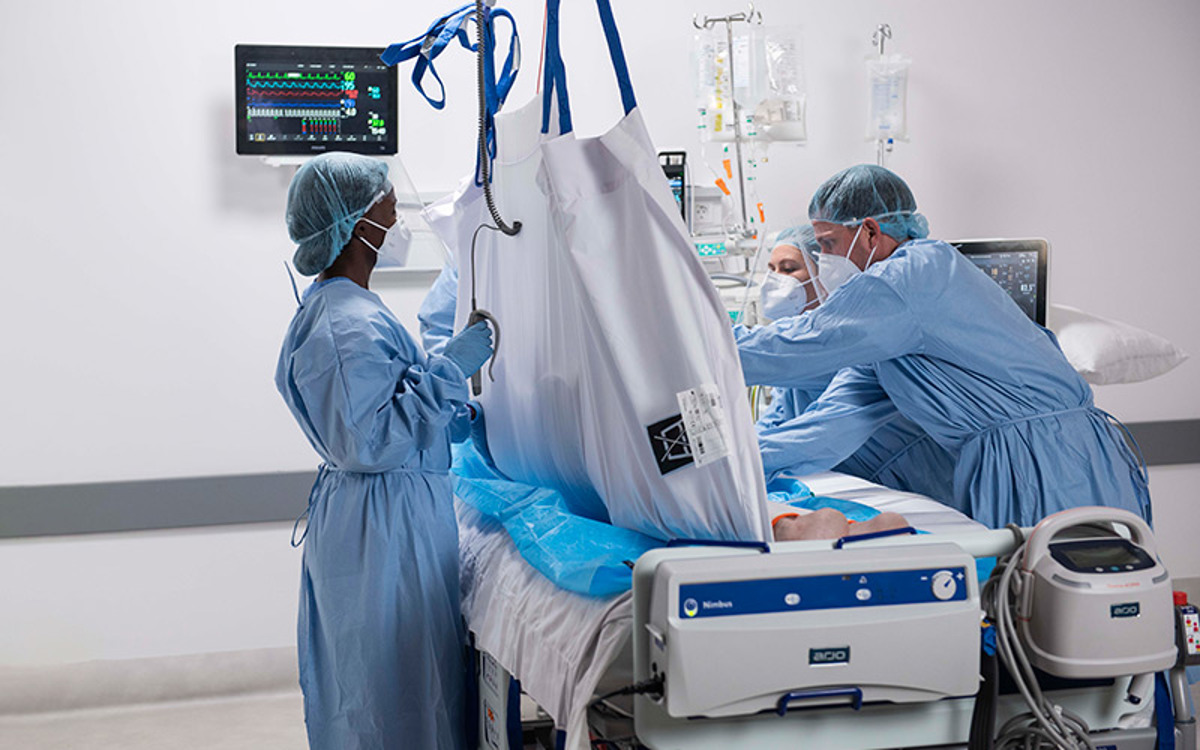 Turning to and from the prone position
Prone positioning involves turning a patient onto their chest. This may sound like a straightforward task. However, clinicians appreciate that this can be a complex, labour intensive manoeuvre that can put both patients and caregivers at risk.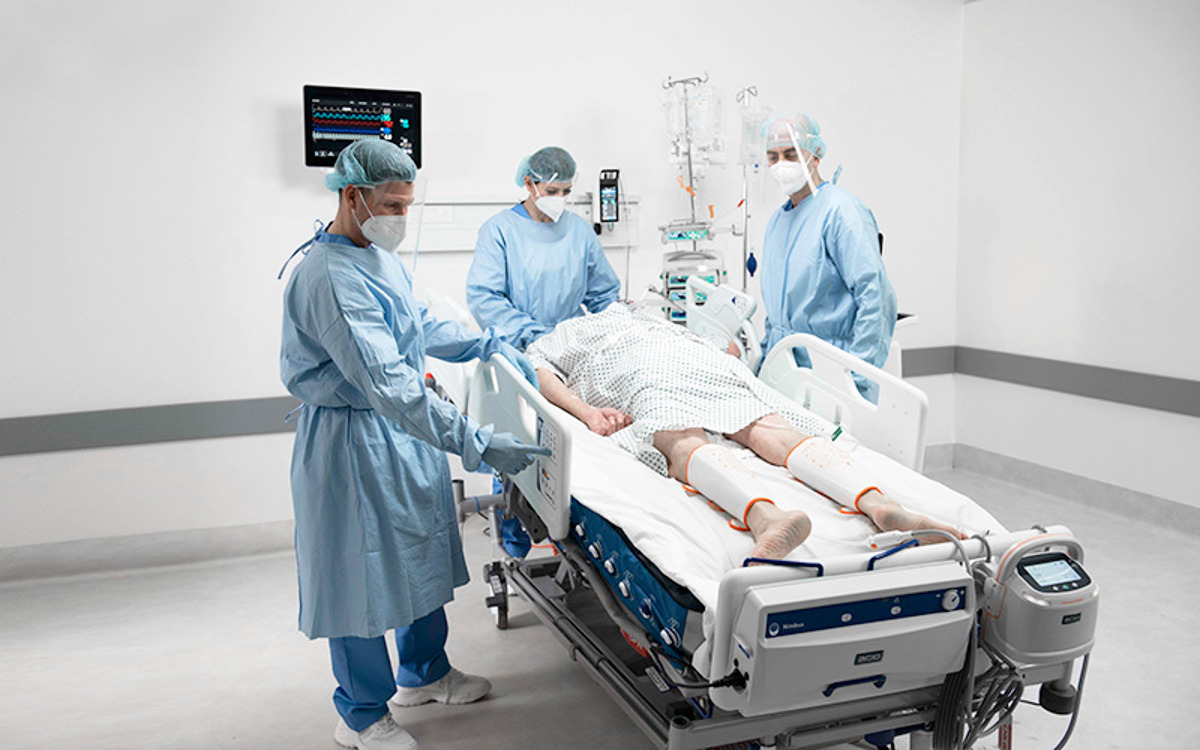 In the prone position
Patients often spend up to 16 hours out of every 24-hour period in the prone position⁴. Such lengthy sessions are associated with an increased risk of pressure injury.⁵
References
Latvala, S. and Masterman, R. 2020. The Evolution of the Ceiling Lift: A Glimpse at How a Single Device Has Redefined Caregiver Safety and Patient Care. International Journal of Safe Patient Handling and Mobility, 10(3).
Church, M. and Chechile, J. 2020. Evaluation of Techniques for Prone Positioning Using Safe Patient Handling Equipment. International Journal of Safe Patient Handling and Mobility, 10(3).
Papazian, L., Aubron, C., Brochard, L., Chiche, J., Combes, A., Dreyfuss, D., Forel, J., Guérin, C., Jaber, S., Mekontso-Dessap, A., Mercat, A., Richard, J., Roux, D., Vieillard-Baron, A. and Faure, H., 2019. Formal guidelines: management of acute respiratory distress syndrome. Annals of Intensive Care, 9(1).
Guerin C, et al, 2013. Prone positioning in severe acute respiratory distress syndrome. N Engl J Med.
Girard R, Baboi L, et al., 2014. The impact of patient positioning on pressure ulcers in patients with severe ARDS: results from a multicentre randomised controlled trial on prone positioning. Intensive Care Med.