Sara Plus
A powered sit-to-stand designed for active transfers, balance, stepping and gait training.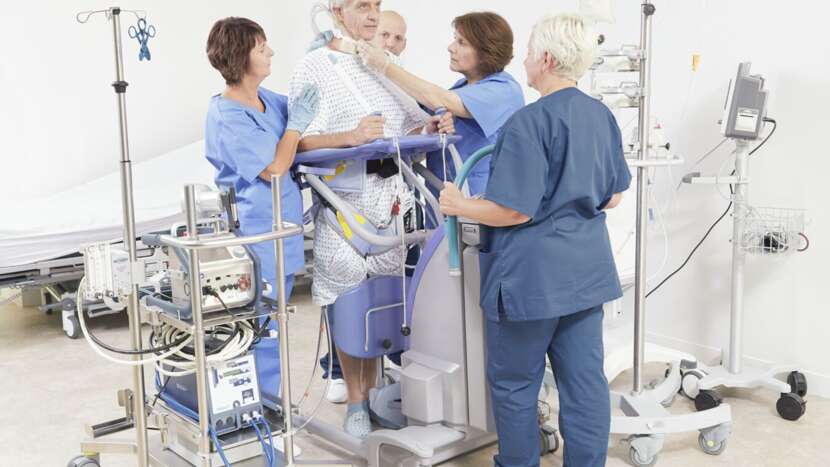 Enhancing mobility through exercise
With a detachable foot plate and the support of the arc rest and sling, Sara Plus is designed to support balance, stepping and gait training.

Upper body support
The arc rest is an integral part of the lifting mechanism, providing additional upper body support during the raising action.

One caregiver
Designed for operation by a single caregiver, sara plus can be a cost-effective solution for standing transfers, stepping and gait training.

Sling solutions
The sling is designed specifically for Sara Plus. It provides a secure attachment to the lifter that holds and supports the patient or resident close to the arc rest. Various sling types are available: standing, transfer/walking, and wipeable.

Scale as option
Optional built-in scale contributes to an easier weighing routine.
Sara Plus features and benefits
ARC rest
The arc rest supports the patient's arms and upper body and can help them support their weight through their shoulders in addition to their feet.
Pro-active pad
The pro-active knee pad provides support and stability, while also allowing natural forward movement of the knees and flexion of the ankles during standing and sitting actions.
Detachable footplate
Detachable footplate enables stepping and gait training with the patient's feet directly on the floor.
Dual controls
Dual controls on the mast and the hand control. The hand control enables the caregiver to move and stay close to the patient and maintain good eye contact throughout the process.
Scale (option)
The scale can be used to weigh patients, and monitor their weight- bearing capacity when Sara Plus is used without the footplate.
Product Information
Max safe working load kg
190 kg
Max safe working load lb
420 lb
Lift Weight (incl battery) kg
78,7 kg
Lift Weight (incl battery) lb
173,5 lb
Min total storage height mm
1195 mm
Min total storage height in
47 in
Min lifting height mm
906 mm
Min lifting height in
35 5/8 in
Max lifting height mm
1497 mm
Max lifting height in
58 7/8 in
External width legs closed mm
646 mm
External width legs closed in
25 3/8 in
External width legs open mm
1107 mm
External width legs open in
44 in
Internal width leg closed mm
534 mm
Internal width leg closed in
21 in
Internal width leg open mm
1002 mm
Internal width leg open in
39 3/8 in
Leg clearance (floor to top of legs) mm
116 mm
Leg clearance (floor to top of legs) in
4 1/5 in
Chassis clearance (floor to bottom of chassis) mm
30 mm
Chassis clearance (floor to bottom of chassis) in
1 1/5 in
Lift total length mm
1033 mm
Lift total length in
40 5/8 in
Turning radius mm
1235 mm
Turning radius in
48 5/8 in
Electrical
Lifter protection class
IPX4
Hand control protection class
IPX7
Battery
24V 6Ah
Battery Charge Indicator
yes
Service meter - displays the total usage of time (hours)
yes
Emergency stop and system failure override
yes
Automatic safety cut out if lowered onto an obstacle
yes
Low friction castors, the rear two with breaks
yes
Sara and Floor Lifts Catalog - Technical Reference Guide
Type: Sales | Leave behind / Brochure
Sara Plus - Leaflet
Type: Kit instructions
Sara Plus Cord Disinfection Clinical Summary
Type: Clinical | Clinical evidence brochure
Sara Plus Instructions for use
Type: Instructions for use (IFU)
Sara Plus Instructions for use Abstract
Type: Instructions for use Abstract (IFU Abstract)
Sara Plus Quick Reference Guide
Type: Quick Reference Guide (QRG)
Sara Plus Specification Sheet
Type: Sales | Specifications sheet / Flyer
Scales (2016) Instructions for use
Type: Instructions for use (IFU)
Sara and Floor Lifts Catalog - Technical Reference Guide
Type: Sales | Leave behind / Brochure
Sara Plus Cord Disinfection Clinical Summary
Type: Clinical | Clinical evidence brochure
Sara Plus Specification Sheet
Type: Sales | Specifications sheet / Flyer
Sara Plus - Leaflet
Type: Kit instructions
Sara Plus Instructions for use
Type: Instructions for use (IFU)
Sara Plus Instructions for use Abstract
Type: Instructions for use Abstract (IFU Abstract)
Sara Plus Quick Reference Guide
Type: Quick Reference Guide (QRG)
Scales (2016) Instructions for use
Type: Instructions for use (IFU)
Sara Plus - Clinical application