Flowtron ACS900
Convenient, comfortable and clinically proven VTE prevention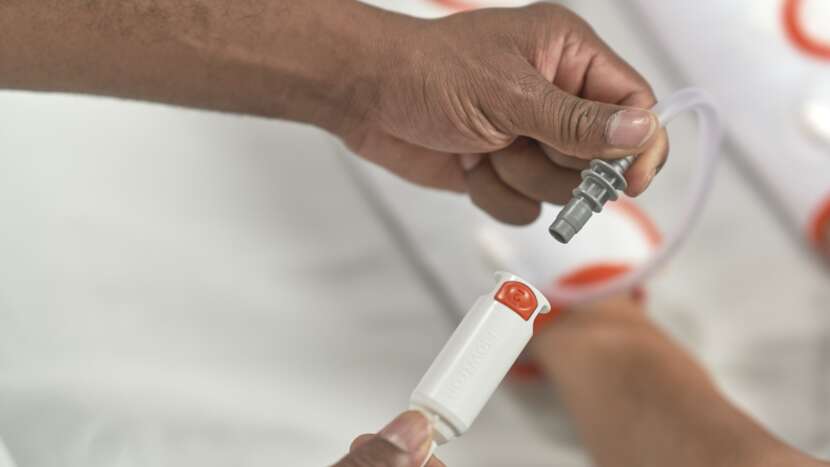 Flowtron® ACS900 Active Compression System delivers a simple, easy to use method of enhancing the circulation of blood in the deep veins of the legs, reducing venous stasis and helping to prevent the formation of DVT.
Reduce the risk of VTE in your facility with the Flowtron ACS900 pump, featuring SmartSense 2 Automatic Garment Recognition and Compliance Monitoring technology.
Designed to give you freedom of choice, the Flowtron system offers both uniform and sequential modes in one easy-to-use pump.
Flowtron Active Compression System is the safe, convenient and flexible way to deliver VTE prevention therapy. ¹⁻⁴ At Arjo, we have built on the Flowtron legacy for decades, continuously improving our offering to ensure the best possible performance of IPC therapy across healthcare environments. We continuously strive to make everyday tasks easier for caregivers, and enable them to spend more time caring for their patients.
Flowtron ACS900 reviewed in independent evaluation
An evaluation conducted by ECRI Institute, an independent non-profit organization focused on identifying the safest and most effective solutions for care, rated the Flowtron ACS900 against a comparable Sequential Compression System in terms of performance, safety, workflow, patient experience and cost of ownership. For information on how to obtain a copy of the report, please contact your local Arjo representative.
1. Arjo Data on File: Summative Usability Validation Report 100035519. December 2014.
2. Arjo Data on File: Customer Acceptance Test (CAT) Report 100035688. June 2015.
3. Arjo Data on File: Functional Test Report 100035587. December 2019.
4. Arjo Data on File: Software Test Report 100035545. December 2019.
Smart and adaptive
Automatic garment recognition together with one-button start make Flowtron a true plug-and-play solution that is easy to set up and operate. Reducing the need for user intervention
by automatically identifying garments connected and setting the correct compression profile – for safety and efficacy.²⁻⁴

Compliance monitoring
Intuitive on-screen compliance monitoring, recording and displaying actual therapy as well as non-compliant time in an accurate manner. Alerts the caregiver upon garment removal to aid concordance, and facilitates tracking and documentation of IPC therapy.⁵⁻⁶

Alarms and indicators
Advanced alarms, including visual indicators allowing operation to be clearly seen from any direction, and real-time pressure indication designed to limit the risk of operator error and potential patient harm – for safety and caregiver peace of mind.⁴

Quiet operation
QuietConcept™ noise reduction technology significantly reducing pump noise to minimise patient and caregiver disruption. Allowing the ACS900 to deliver therapy in a quiet manner across all garment types, contributing to a quieter care environment.⁷

Complete range of garments
A wide variety of garment types and sizes ensuring effective and comfortable therapy for all patients and clinical needs ⁴ ⁸ ⁹. The system allows for any combination of foot, calf and calf-and-thigh garments to be used simultaneously.

Durable and energy efficient
VTE prevention around the clock* with SmartEnergy™ enhanced power management ensuring uninterrupted calf therapy for a minimum of 24 hours when the pump is not connected to a power outlet³ ⁷ ¹¹. SmartEnergy also contributes with reduced power consumption, CO2 emissions and cost.¹⁰

Fixed tubesets
Ready for therapy at all times with fixed tubesets preventing disconnection and loss of tubing, hence eliminating the inconvenience and cost of replacements.⁴

Integrated cable management system
Integrated cable management system aiding tubeset and power cord management in the clinical area and during storage/transportation, promoting caregiver convenience and patient safety.¹⁻⁴

References
1 Arjo Data on File: Summative Usability Validation Report 100035519. December 2014.
2 Arjo Data on File: Customer Acceptance Test (CAT) Report 100035688. June 2015.
3 Arjo Data on File: Functional Test Report 100035587. December 2019.
4 Busby J, Holst K, Hansson K. User feedback on the Flowtron® ACS900 pump and Tri Pulse garment range. Arjo Whitepaper. June 2021. Arjo.A00491.1.0.INT.EN.
5 Arjo Data on File: Compliance Monitoring Test Report 100126883. November 2021.
6 Arjo Data on File: Summative Evaluation Report (SER) 100116863. November 2021.
7 Arjo Data on File: Audible Test Report 100127045. ACS900 MLU. Acoustic Noise Testing of Medical Pumps. Southwest Research Institute. November 2021.
8 Ellis J. The textile properties of Deep Vein Thrombosis (DVT) garments: a factor in patient compliance with Intermittent Pneumatic Compression (IPC) systems. Arjo Whitepaper. March 2019. Arjo.A00096.1.0.INT.EN.
9 Arjo Independent Test Data on File. Tri Pulse: water vapour resistance, thermal resistance (single plate method), drying time, liquid wicking rate and water vapor permeability testing. September 2019. Test report E-008677/C.
10 Arjo Data on File: Electrical Efficiency Measurements Report 100127046. ACS900 MLU. November 2021.
11 Arjo Data on File: Battery Study Report 100127047. ACS900 MLU. November 2021.
Model
ACS900
Standard
ACS900
OR (Operating Room)
Specifications
Type of compression
Uniform or Sequential Calf, Calf/Thigh, Foot
Uniform:
40 ± 5 mmHg
Sequential:
45 ± 5 mmHg
Foot:
130 ± 10 mmHg
Compression cycle Uniform/Sequential:
12 sec. inflation; 48 sec. deflation
Foot:
3 sec. inflation; 27 sec. deflation
ACS900 standard tube length
2.1m/7ft
ACS900 OR tube length
4.0m/13ft
Battery type
14.4V, 2600mAh. Lithium Ion pack
Power
100V-230V, 50-60Hz, 10-40VA
Pump size
H230 x W226 x D196mm / 9.1 x 8.9 x 7.7in
Weight
3.8kg/8.5lb
Flowtron ACS900 Instructions for use
Type: Instructions for use (IFU)
Flowtron ACS900 Quick reference guide - Compliance monitoring
Type: Quick Reference Guide (QRG)
Flowtron ACS900 Quick reference guide - Controls (A4, Portrait, Colour)
Type: Quick Reference Guide (QRG)
Flowtron ACS900 Quick reference guide - Use (A4, Portrait, Colour)
Type: Quick Reference Guide (QRG)
Flowtron ACS900 Instructions for use
Type: Instructions for use (IFU)
Flowtron ACS900 Quick reference guide - Compliance monitoring
Type: Quick Reference Guide (QRG)
Flowtron ACS900 Quick reference guide - Controls (A4, Portrait, Colour)
Type: Quick Reference Guide (QRG)
Flowtron ACS900 Quick reference guide - Use (A4, Portrait, Colour)
Type: Quick Reference Guide (QRG)
Flowtron - ACS900 - Demonstration video
VTE ACS900 Compliance Monitoring