Nurses empowering nurses: How quality of care is elevated through a shared mission and passion
---
2023-05-10T22:00:00.0000000Z
Caregivers are the backbone of healthcare systems around the globe. And the over 100 trained nurses in Arjo's organisation give healthcare providers a partner with a deep understanding on what it really takes to care for people in need, often in exceptionally challenging circumstances.
How does this benefit healthcare providers? As they seek guidance on the best solutions to care for their patients and residents, in their specific environment, these unique clinical insights become valuable assets in the process. In addition, the expert knowledge is applied in the development of new products and solutions. This enables us to continue developing safer and more effective products and solutions that help providers protect the wellbeing of caregivers, prevent the impact of mobility and optimise costs and efficiencies in care.
In this article we have gathered the voices of some of the nurses at Arjo, hearing about their experiences and how they work with customers to empower them to provide the best care possible.
We start in the United Kingdom and Ireland, where Gerry Martin works as a Senior Nurse Advisor:
"Prior to my 23 years at Arjo, I was a registered general nurse in acute medicine for almost 10 years. After completing a module on tissue viability, I became more involved in wound care. I want to use my nursing experiences, clinical knowledge and product awareness, to assist nursing colleagues in solving and treating problems related to the complexities of pressure ulcers. Listening and collaborating with frontline nursing heroes is key to improving outcomes and product innovation," says Gerry.
Gerry's colleague, Guy Oelrich, is a VTE Product Specialist who faced his most demanding healthcare challenges in the British Royal Air Force.
"As a member of the RAF reserves, I was primarily involved in care and transportation of patients from the point of injury on the battlefield to definitive care on UK soil. Knowing the true value of teamwork, I'm able to work with clinical teams to create a true partnership between Arjo and our customers," Guy explains.
Empathy and understanding drives better collaboration in the UK
Helen Ferguson, Senior Nurse Advisor, Northern Ireland, believes that understanding needs and working in partnership is key to stay on top of the ever-changing demands and challenges of healthcare providers.
"My clinical background has given me true empathy and understanding for the day to day challenges that healthcare professionals face. Our customers value and respect our clinical background and working in partnership with them ensures the patient flow from an acute setting to primary care is timely, and that clinical needs of patients are met," she says.
In Wales, Clinical Nurse Advisor Zeta Lewis agrees: "Having previously had a surgical nursing background in the NHS and a managerial background in the social care sector, I know first-hand how efficiency is key for our customers and how our solutions can maximise this and inspire and empower them to deliver the best possible care."
Zeta continues: "As Clinical Nurse Advisors, we are ideally placed to support customers where and when they need it most and work collaboratively to achieve positive outcomes for patients. I see a future where Arjo's innovations are synonymous to an outstanding dedication to excellent patient care."
Alison Walker, Clinical Nurse Advisor, is another colleague in the UK with decades of nursing experience. She started her nurse training in 1978, and early on she developed an interest in pressure ulcer/injury management and prevention. "I love teaching and I believe that clinicians value my input as they also have faith in the products we supply. The collaboration can only grow stronger as we develop new innovative solutions for them and their patients," she says.

Pictured from left to right: Gerri, Guy, Helen, Zeta and Alison
A shared passion and expertise means better customer partnerships in Belgium
Supporting customers through collaboration is also key for Vincianne Pleitinckx, Clinical Specialist in Belgium.
"With 20 years of nursing experience as a head nurse and hospital hygienist, I try to motivate healthcare providers with my passion and expertise to prevent pressure ulcers. During my 15 years at Arjo, I have gained a lot of experience, especially through the clinical assessments in hospitals and residential care centres. Our goal at Arjo is to unburden care workers by preventing pressure ulcers. This also optimises costs and efficiencies for the care facility," Vincianne explains.
For Véronique Bevernage, Clinical Advisor in Belgium, the role at Arjo is a two-way street, including sharing knowledge as well as gaining new knowledge.
"As a nurse in both hospital and residential care centres, I learned a lot about the scientific part of bedsore prevention. At Arjo, I get the chance to delve further into the subject. The contact with the client is fascinating and brings constantly new insights. It is pleasant to see that healthcare providers accept us as partners focusing on specific subjects, enabling us to grow together and find what is best for the client," Véronique explains.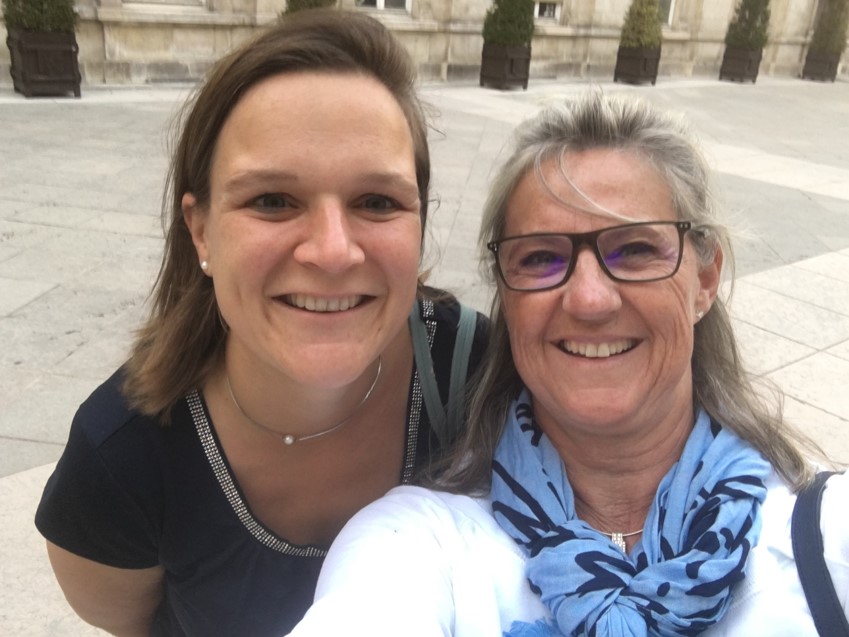 Pictured from left to right: Véronique and Vincianne
Understanding the customer's real-life challenges in Austria, Germany, France and the UK
The massive variety of nursing experiences among the Arjo specialists is a huge asset in the daily quest to empower movement for caregivers, patients and residents.
"I worked at a neurology ward, so knowing about procedures and workflows, as well as the pain points in the daily routines, helps me understanding the increasing workload and frustrations that come with it. We as Arjo can help customers deal with staff shortages with procedures that contribute to time-savings and increased qualified and dignified care at the same time as they are protecting the wellbeing of caregivers," says Thomas Filip, Marketing & Product Management, Austria
Nicole Berger, Training and User Specialist in Germany, came to Arjo with more than 20 years of professional experience as a specialist nurse for anaesthesia and intensive care medicine, with further training as a practice supervisor and wound expert. She says: "I can support our clients in their daily challenges in the areas of transfer, hygienic care, pressure sores and everything related to ergonomic stress."
Tobias Lang, Training and User Specialist in Germany, worked with various Arjo aids during his nursing years. He was also trained as a MOVE coach.
"For me, it was always particularly touching to be in situations where residents see that we were able to make something positive possible for them by promoting greater mobility with dignity. Working at Arjo, I can still pass on these experiences and this positive drive on to our clients and they realise that we sell authentic services, not just products," Tobias explains.
In France, Pénélope Massourides works with Arjo's rental activities as a Clinical Advisor. She highlights the role of trust as a door opener for discussing solutions.
"Based on the trust created with the customer, I identify their needs and turn this into specific clinical actions. I also provide training for the caregivers in using our solutions and our products as well as cultivating the partnership together with our sales representative. We want to be reactive, available and empathetic, conveying our company's values and help empower movement in all areas," Pénélope says.
Sarah-Lynn Gibson, VTE Account Manager in the UK, also brings up the hands-on experience as an invaluable component in customer understanding:
"Being able to empathise with my customers can be a real leveller and conversation opener. With almost 3 decades of healthcare experience as an RGN, most recently for NHS Lanarkshire and NHS Tayside during the throes of Covid, being able to demonstrate understanding with clinicians can be a great way to providing real solutions."

Pic

ture

d from left to right: Thomas, Nicole, Tobias. Pénélope and

Sarah-Lynn
From Europe to Australia, Africa and North America: Nursing's global challenges
Moving to the other side of the world, Nicola Jackson's nursing experience spans over two continents. After working as a specialist neuro nurse in the UK, she continued her career in Australia, taking on various roles and specialties. Today she works as a clinical consultant before at Arjo.
"My varied nursing career has enabled me to understand the many aspects of healthcare and how different roles contribute to healthcare delivery. I believe the best outcomes are achieved by working together to help find solutions that deliver best possible care with the best outcomes, despite the lack of resources and time seen by many of our customers," Nicola explains.
Lucy Nyanga, Clinical Education Specialist in Australia, has over 20 years of experience working in Africa and Australia within healthcare and tertiary settings.
"I can contribute to better outcomes by helping professionals improving their skills and getting the most out of their products and services. Collaboration between healthcare providers and Arjo emphasises the positive impact of our products and services on patient health and wellbeing. Customer interactions and their feedback help us to improve products and solutions to provide maximum value and impact," Lucy says.
Lucy's colleague and fellow Clinical Education Specialist in Australia, Anita Smith, has extensive nursing experience both in long-term care and rehabilitation and in acute care with focus on the ER and nursing education. She was also a product specialist for surgical lasers and microscopes.
"At Arjo, I deliver product training and clinical education on preventable occurrences, such as falls, staff injuries, pressure injuries and VTE. Using experiences gathered from patients, residents and staff, I love to focus on the quality of work and quality of care for each individual and facility to ensure that Arjo's solutions are utilised to their full potential," Anita says.
Angelia Calabro, a MOVE Clinical Consultant in the US, worked a registered nurse for almost twenty years. In addition to working with new and transition nurses during their first year in an acute care setting, she also had the opportunity to create and review hospital policies.
"These insights have proven helpful in my current passion for demonstrating that our solutions and products allow caregivers to do their best by helping with today's challenges," Angelia explains.
Brenda Quayle-Rivera, Arjo Move Clinical Consultant in the US, worked in the medical field for over 29 years. She had the opportunity to learn, teach, present, and mentor healthcare professionals at a local, regional, and national level.
"I was also honoured to be a first responder in Chicago hospitals for the first year of the pandemic, and focusing on my strengths, I still continue to grow. Incorporating my knowledge, skills, and experiences into my consulting allows me to help my clients maximize their outcomes while minimizing their financial cost," Brenda explains.
Across the border in Canada, Danielle Seibel started as a Registered Nurse in 1988, and has worked in several areas including neuro-rehabilitation units, medical-surgical units, long term care, and home care nursing. Today, Danielle is a Clinical Consultant at Arjo, having been with the company for over 20 years.
"I thoroughly enjoy educating staff in safe patient handling tasks, and I find my professional experiences gives me credibility with the healthcare staff. And as a nurse who injured myself early in my career, I am passionate about keeping patients, residents and healthcare staff safe," says Danielle and adds:
"My goals for the clinical education programs is always to have staff not only be more knowledgeable, but also empowered to continually focus on safe working practices, which leads to fewer injuries and less lost time."
Fellow Canadian Misha Jadoo has a background in critical care level II, public and community health, and clinical education in areas including acute care, LTC, rehab and complex continuing care. She shares Danielle's focus of looking at the work practices and how they affect both patients/residents and caregivers:
"My clinical background brings frontline insight to the challenges our end-users experience, and the ways Arjo products can be a solution to these difficulties. I'm able to resonate with the experience of healthcare providers, when we speak to them about Arjo solutions on their units, and help to provide training and implementation solutions that are relevant to their frontline perspective," says Misha.

Pictured from lef

t to right: Nicola, Lucy, Anita, Brenda, Danielle, Misha
Back in the UK: Evolving care and career by staying sharp
Amanda O'Neill, Clinical Nurse Advisor in England joined Arjo after 30 years as a nurse. She sees the change from caregiver to advisor as a career evolution that provides a real win-win situation:
"I still loved my job, but felt that I needed a new challenge in life," she says. "My nursing experience has given me knowledge and skills that I utilise on a daily basis, supporting the nurses I work with. Having this background makes me more able to relate with the everyday complexities, pressures and demands ward staff are facing today. I feel I can provide solutions that make them able to provide a better standard of care."
Mary Muir, National Clinical Consulting Manager in the United Kingdom had 34 years' experience of working in a variety of healthcare settings as a nurse, manager and back care advisor when she joined Arjo.
"As clinical consultancy manager, I lead a team who provides Insight assessments and MOVE programs focusing on caregiver injury reduction, pressure ulcer prevention and delivering guaranteed outcomes. By focusing on empowering movement we can help nurses to promote patient rehabilitation, dignity and independence as well as look after their own safety by reducing physical overload in their everyday practice," she explains.
The passion for the nursing and Arjo's ability to help customers improve outcomes are the driving forces that tie all these Arjo colleagues together, wherever in the world they are working. Sarah Smith, Senior Clinical Nurse Advisor in the United Kingdom and Ireland has maintained her nurse registration throughout her 26 years at Arjo.
"Continuous professional development is important, and management, research studies and data analyses have been useful topics both for my nursing career and in my role as advisor. A high level of report writing and confidence when communicating with staff at all levels have been essential when presenting results and creating the value for the customer," says Sarah. "During my years as clinical advisor I have taken ownership of numerous contracts for monitoring the usage of equipment and ensuring that the correct level of education is delivered."

Pictured from left to right: Amanda, Mary, Sarah
We are proud and honoured to have all these colleagues – with hundreds of years' combined nursing experience – on our team. Not just for their insights about how products, solutions and services can be optimally designed and applied; but also for their passion to understand, help and guide their customers to provide the highest quality of care possible for their patients and residents. Caregivers are truly the backbone of healthcare, regardless of their position in the care process. Thank you for your passion and commitment, and for your immeasurable positive impact on lives around the world.