Arjo Wipeable Standing Clip Sling
Wipeable clip sling for Arjo Standing and Raising Aids, Sara Stedy, Sara Flex and Sara 3000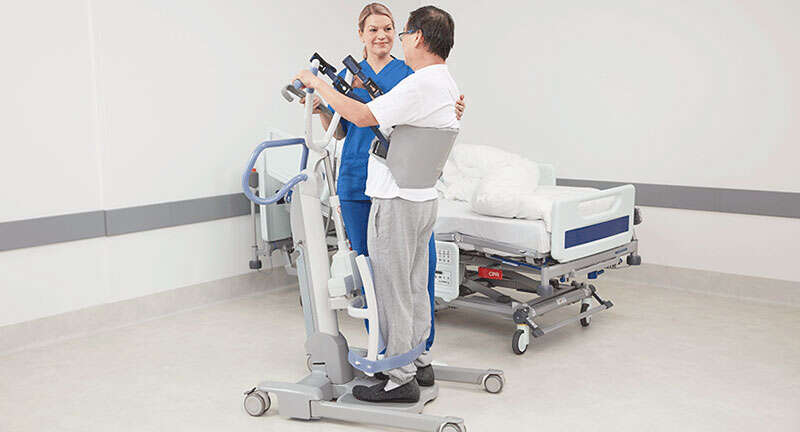 With no laundering requirement our Wipeable Standing Clip Sling is designed to be able to be wiped clean between patients or residents; hence helping to reduce the cross infection risks associated with shared patient handling devices.¹²
Completely wipeable - Avoid the laundry process, i.e. no lost or missing slings, the sling is always available. The body, the straps and attachment points of the sling are made of non-porous material and hence completely wipeable.
Welded seams - No stitching on the seams of the sling is designed to reduce potential of fluid ingress and contamination of the sling.
Smooth patient contact surface - The inside of the sling in contact with the patients, is free from seams, straps and other components, designed to create a smooth surface towards the patients body.
The belt is fixed to the sling - The belt and sling are attached to prevent the two being separated and the belt being lost.
Colour coded sizes - All slings are size colour-coded for ease when choosing the right sling. There are four sizes available: S, M, L and XL.
Safe Working Load, SWL 200 kg / 440 lbs
Size (Article Number)
Small (TSS.500W-L1)
Medium (TSS.501W-L1)
Large (TSS.502W-L1)
Extra Large (TSS.503W-L1)
Cleaning/disinfection
This sling can be wiped down with the following types of cleaning/disinfection agents:
Ethanol, Isopropanol, Hydrogen peroxide, Quaternary ammonium, and Bleach.
Please refer to the "Instructions for use" for more information.
References:
1. Robert M. Scherer, BA, RN. Infection control for lifts and slings, September 2007 Vol. 2 Num. 9
2. Kelly M. Pyrek, Portable Medical Equipment: A Significant Source of Transmission, Infection Control Today. February 1, 2018. website accessed 21/09/19: https://www.infectioncontroltoday.com/transmission-prevention/portable-medical-equipment-significant-source-transmission
Weight and dimensions
Compatible lifters
Sara® Stedy, Sara® Flex and Sara® 3000
Safe Working Load kg
200 kg
Safe Working Load lb
440 lb
Size (Article Number)
Small item number
TSS.500W-L1
Small cm
64-84 cm
Small in
25-33 in
Medium item number
TSS.501W-L1
Medium cm
76-104 cm
Medium in
30-41 in
Large item number
TSS.502W-L1
Large cm
88-124 cm
Large in
34.5-49 in
Extra Large item number
TSS.503W-L1
Extra Large cm
108-160 cm
Extra Large in
42.5-63 in
Cleaning/Disinfection
Suitable cleaning agents
Ethanol, Isopropanol, Hydrogen peroxide, Quaternary ammonium, Bleach.