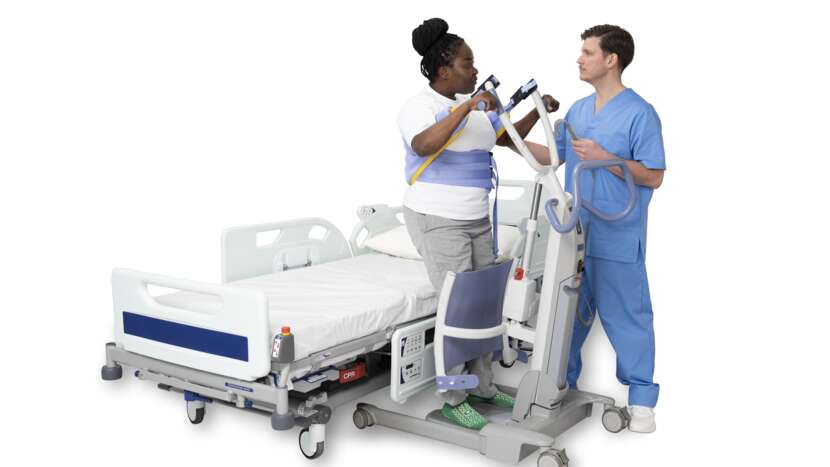 The Sara Flex standing sling in conjunction with the lift enables a single caregiver to assist a patient or resident from a seated to a standing position, in one natural movement.
Residents and patients in care environments gain important physical and psychological benefits when their mobility is maintained. Choosing the right mechanical aid is crucial for maintaining the mobility of the resident/patient and at the same time reducing physical overload for the caregiver. That is why an active transfer with a standing and raising aid is recommended for patients/residents who could support their weight on at least one leg and have sufficient muscle strength in the upper and lower body.
The sling is an essential part of the Sara Flex standing and raising aid. In conjunction with the lift, it enables semi-active residents and patients to be raised up from a bed, chair, toilet, wheelchair or hygiene device for transfer and short distance transportation. It can also be used for early mobilisation and rehabilitation activities.
The dual clips on the attachment strap make it easy to adjust the strap length to ensure the right fit and the anti-slip fabric in contact with the back of the patient/resident helps to keep the sling in the right position.
This sling should only be used together with Arjo standing and raising aids in accordance with the allowed combinations page on the specified section of the Instructions for Use.
Product Information
Article Number
TSS.500-504
Max safe working load kg
200 kg
Max safe working load lb
440 lbs
Compatible Lifts
Sara 3000, Sara Lite, Sara Flex, Sara Stedy
Available Sizes
S, M, L, XL, XXL
Expected Service Life
2 Years
Expected Shelf Life
5 Years
Washing Temperature
70° C
Tumble Dry Temperature
max 60° C
Sara 3000/Flex/Lite/Stedy Active Slings Instructions for use
Type: Instructions for use (IFU)
Slings Leave Behind
Type: Sales | Leave behind / Brochure
Slings Leave Behind
Type: Sales | Leave behind / Brochure
Sara 3000/Flex/Lite/Stedy Active Slings Instructions for use
Type: Instructions for use (IFU)