The new Evenda bed – designed to help improve life for people living with dementia and their carers
---
2023-09-26T22:00:00.0000000Z
September is World Alzheimer's Month – and Arjo is taking yet another step to help improve life for people who live with dementia and their carers by introducing the Evenda bed. Developed with cognitive care challenges in mind, it carries the highest accreditation rating by the DSDC (Dementia Services Development Centre) at the University of Stirling in Scotland.
Dementia is estimated to affect more than 60 percent of all long-term care residents1, and as the number continues to rise, so does the need for support – both at a carer and facility level.
The key to improved quality of life for people living with dementia is the provision of person-centred care2. It places the person with dementia at the centre of care delivery and decision making, treating them with dignity and recognising the person's inherent value, individuality, beliefs, preferences and choices.
Designed around the needs of people with different mobility and cognitive challenges, many Arjo solutions facilitate smoother activities and one-to-one interactions between resident and caregiver, to support a calm and dignified care environment.
"Our aim is to make caregiver tasks easier, while creating a familiar feeling of home for those who live with cognitive challenges. This can contribute to minimising responsive behaviours and creating positive moments in their everyday life," says Håkan Widerström, Director, Global Product Category Management, Medical Beds at Arjo.
Using solutions designed to be operated by a single carer enables healthcare providers to deliver one-to-one care, which has advantages for carers as well as residents.
"In addition to freeing up carer time that can be used to attend to other residents, it paves the way for quality interaction. The carer can focus on the resident instead during care tasks," Håkan says.
Evenda – three-in-one bed
To cover most caregiver and resident needs in the long-term care category Arjo is launching the Evenda bed range – featuring three bed models and a multitude of configuration possibilities.
The Evenda range consists of the models Sereno, Moveno and Comfio, which provide customisable solutions depending on individual resident challenges and facility preferences.
While the Evenda Moveno is designed for people who are relatively mobile, the Comfio focuses on facilitating care for immobile residents. The Sereno variant is tailored primarily to people living with dementia.
Sereno promotes the creation of a recognisable living space, helping residents living with dementia feel more secure and comfortable. The headboard and other details have rounded elements. Head- and footboard design with colour contrasts can help make the bed more recognisable – and under-bed light can help guide the resident when getting up at night.
In addition to a handheld control for the carer at the foot of the bed, the resident has access to a simplified hand control with large, simple icons that allows the resident to control some of the bed functions themselves, if they are able.
Supporting falls prevention
One in two residents in long-term care fall each year2. Even those who don't injure themselves may develop a fear of falling, which can limit their independence even more as these residents may begin to restrict their activity3,4.
To enhance the comfort of the resident and help reduce the fear of falling out of the bed, the Sereno variant is wider than the others and offers a low height of only 17 cm.
Furthermore, to support resident independence, Evenda introduces a new flexible mobility assist handle, that can be adjusted to a position perpendicular to the bed, to mimic the motion of using the armrest of a chair when exiting or entering the bed.
In a study5 75% of participants preferred the perpendicular position of the mobility assist handle to aid their sit to stand from the bed. The explanation for this was the preference of a chair arm format, folded out 90° from the bed, to push themselves up.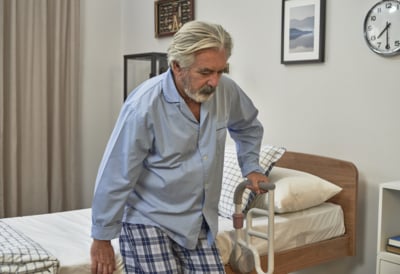 Focus on pressure injury prevention
The Evenda beds are equipped with an auto-regression functionality to help minimise resident migration towards the end of the bed when the backrest is repositioned.
"In a recent study6, comparing our solution with three commonly used long-term care beds with the same surface, Evenda demonstrated the least migration during bed articulation, the lowest interface pressures, and it was ranked as the most comfortable bed in the test," Håkan says.
In addition to an increased risk for pressure injuries and skin tears, resident migration down the bed can lead to caregiver injury during resident repositioning7.
A study8 concluded that 59% of carer injuries are due to patient handling activities, such as in-bed repositioning, transferring, preventing patient falls and assisting a patient during a procedure.
Evenda is compatible with a variety of passive, active and hygiene lifts for easy access to the resident for care procedures and transfers.
Built on Arjo´s design principles – and featuring top dementia accreditation
Empowering movement is at the heart of everything we do at Arjo. It's at the core of our design principles for both acute and long-term care products. Our design principles ensure that we continue to meet the evolving needs and challenges of today's care environments, including a clear focus on designing for people living with dementia in mind.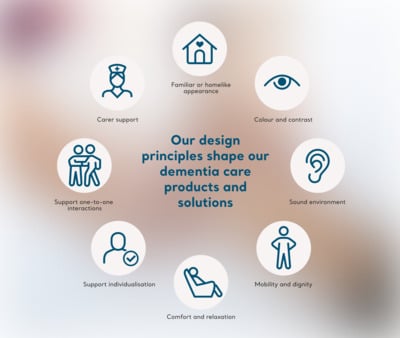 Thanks to their purposeful design, the Evenda bed and Evenda combined with our AtmosAir Velaris mattress, which provides alternating or reactive pressure, has been awarded the best possible accreditation rating (Class 1a) as a dementia friendly product by the DSDC (Dementia Services Development Centre) at the University of Stirling in Scotland.
The Evenda bed is the fourth Arjo product with a DSDC rating. The Sara Flex sit-to-stand aid, the Sara Stedy support aid and the multipurpose hygiene chair Carendo also carry the renowned DSDC accreditation.
"Caring for residents living with dementia is a 24-hour task, and all products in our dementia care portfolio are designed to facilitate person-centred care around the clock, from patient transfers to bathing and wellness. By combining outstanding products with a genuine understanding of the particular challenges in dementia care, we strive to be the leading outcome partner in our industry," Håkan says.
The University of Stirling has a distinct reputation in the field of dementia and ageing, and the DSDC is recognised worldwide as leaders in the field of dementia design with a strong reputation for supporting society to meet the changing needs of an ageing population.
In accreditations, the DSDC focuses on principles of dementia design that should support the individual's needs, maximise independence, enhance self-esteem and confidence, demonstrate care for staff, be orientating and understandable, reinforce personal identity, welcome relatives and the local community and allow control of stimuli.
You can learn more about DSDC on their website: GO TO DSDC's SITE


About World Alzheimer's Month
Created by Alzheimer's Disease International, World Alzheimer's Month is a global campaign launched every September, with World Alzheimer's Day held on 21 September. Find out more at worldalzmonth.org.
References
1 Alzheimer's Disease International. World Alzheimer Report 2018. London: Alzheimer's Disease International; 2018
2 Chapter 1. Introduction and Program Overview | Agency for Healthcare Research and Quality (ahrq.gov)
3 Helen W. Lach, Alicia J. Lozano, Alexandra L. Hanlon & Pamela Z. Cacchione (2020) Fear of falling in sensory impaired nursing home residents, Aging & Mental Health, 24:3, 474-480, DOI: 10.1080/13607863.2018.1537359
4 Lach HW & Parsons JL (2013). Impact of fear of falling in long term care: An integrative review. Journal of the American Medical Directors Association, 14(8), 573–577. 10.1016/j.jamda.2013.02.019 [PubMed: 23602257].
5 Fray M (2020) The Effect of Low Bed Height on a Person's Ability to Egress a Bed (Arjo Whitepaper)
6 The effect of long term care bed design on body migration, pressure redistribution and comfort (2022). Arjo Whitepaper
7 Kotowski SE, Davis KG, Wiggermann N. Williamson R. Quantification of Patient Migration in Bed: Catalyst to Improve Hospital Bed Design to Reduce Shear and Friction Forces and Nurses' Injuries.Human Factors: The Journal of the Human Factors and Ergonomics Society 2013 55: 36-47
8 Ngan K, Drebit S, Siow S, Yu S, Keen D, Alamgir H. Risks and causes of musculoskeletal injuries among health care workers. Occup Med (Lond). 2010 Aug;60(5):389-94. doi: 10.1093/occmed/kqq052. Epub 2010 May 16. PMID: 20478819.