Arjo Care Covid-19 Report: Spain
---
2021-09-30T05:00:00.0000000Z
Since March 2020, the Covid-19 pandemic has put our customers in healthcare around the globe – and the field service teams who support them – in extraordinary situations.
From Spain, we speak with Maurici Benito, Managing Director Arjo Iberia, who credits his small yet tireless team for turning the crisis into a period of exceptional growth.
"Everything here is done with social contact."
When Maurici Benito took over the reins at Arjo Iberia in 2017, Arjo was not yet well-known in the market, but his lean team was highly motivated to grow. Part of that growth strategy was to be highly visible, and maintain frequent contact with customers.
"We are a latin country, so everything here is done with social contact," explained Maurici.
"Back then we were not very known in this market, but now I can say we have become one of the top names on the customer's minds," he added proudly. "Part of this I believe is from our good work – we work hard to treat our customers well, and part of it is being visible – I trust a lot in the power of visibility. If we put ourselves in front of the customers, we create a bigger presence."
Without hesitation or pausing to look it up, Maurici could remember the exact dates when the pandemic restrictions took effect.
"The pandemic really hit us on March 8, 2020. That's the day the government stopped everything," he recalled. "On March 12, they issued a warning about Covid-19, on March 13 they closed the schools, and on March 15 the central government took over and decisions about the pandemic were managed centrally.
"The first emotion was fear. We were afraid of everything, and had no idea what was going on. And there was sadness about the deaths. Our customers are healthcare workers, and the hospitals were so overwhelmed that they had to start making decisions about who they could or could not treat – which was like deciding who would live, and who would die. It was very tough on them.
"Of course, they were trying to save as many as possible – and this drove up the demand for beds and ventilators. Different industries were trying to help meet this demand. Factories that didn't normally make healthcare equipment were trying to build makeshift ventilators.
"We were getting orders for thousands of beds. This was so much more than our usual volume, it would require a significant investment to order them, have them shipped in, and deliver them to the customer. If we rented them out for a short term, they would soon be returned to us and our warehouses would be overwhelmed. So we had to make the decision to sell instead of rent."
"It was like we were delivering jewels."
"The real issue for the customer, however, was time. We soon found out that the business would go to whoever could deliver the stock sooner. Sometimes the difference was just one day," said Maurici.
"Speed was so important, customers were willing to pay whatever it took to expedite delivery. There was an order for a large number of mattresses and the quickest way to get it here was to fly it in directly from Suzhou, China. This cost a lot more, but the customer was willing to pay for it.
"Booking local transportation was a challenge as well. Drivers for local trucks were worried about getting sick, and many of them refused to work. Those who were still willing to work were quickly booked up to deliver medical equipment and other essential goods. There was a high demand for masks, protective gear, and food.
"Luckily, we could order some beds to be driven over direct from our factories in Poznan. I will never forget our first delivery in the Covid-19 pandemic, in the middle of March. A hospital had ordered 30 or 40 beds. When the beds were on their way the customer suddenly called to inform us there had been an outbreak at their hospital, and that we shouldn't come and put ourselves at risk. But the lorry was on its way. So we started calling up other hospitals and one of them said yes, we'll take them instead.
"Even though the streets were empty, these beds were delivered to the hospital with a police escort, to make sure we weren't stopped because people were forbidden to travel now. These beds were so precious, it was like we were delivering jewels. The policemen, the lorry driver, my service technicians and myself, we all helped to unload and install the beds. People living nearby were watching us from their windows, and as we started unloading the beds they began to applaud. It was a very emotional scene."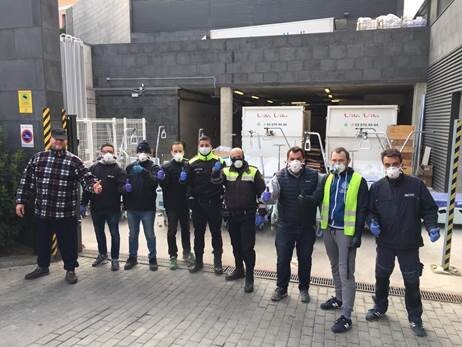 Maurici (third from right), Arjo service technicians, the driver from Poznan (far left), and their police escorts (center) after delivering beds to the hospital at the height of the first wave.
"They had each other's backs."
Healthcare workers were not the only ones feeling fear and uncertainty.
"Nobody knew how long it would last. Everyone was driving alone, no one dared to carpool. At the time we didn't know exactly how it did or did not spread, so we took extra precautions. As soon as we left a hospital we would strip off our clothes, put them into a bag, then put on fresh clothes. We soon learned that this wasn't necessary, but at the time we wanted to be extra careful."
One reason they took these precautions so seriously was because some of their team members were among the first wave of patients who contracted the Covid-19 virus in Spain.
"I have two technicians in Madrid, where the infection hit first when it reached Spain. They got infected before the lockdown. One of them could not come back to work for almost a month, while the other was out of work for four months," Maurici revealed.
"During this time, our colleagues in Catalunya had to cover both their own territory as well as Madrid. The team was extremely supportive. Even the rental technicians supported them, though rental orders were coming in nonstop. They had each other's backs. This has made our team even stronger and closer. Both technicians have fully recovered now."
"I caught the virus before we were advised to start wearing masks, resulting in a high viral load, so I had a very hard time," said Pedro Gallego, the field service technician who had to be on sick leave for four months due to the virus. "I had great support from all my colleagues, especially my colleague and friend Alberto (Santaren), who took care of all the work that I couldn't do."
"We sent all our back office staff to work from home, but this was tough for our field team as they could not do the same," said Maurici. "We invested in gloves, PPE suits, masks, face shields. On a typical day the field staff would have to change their masks and gear three or four times. And every week they had to take a routine test, which we paid for."
Staying home presented its own set of challenges. Besides having to work in isolation, some colleagues had to juggle work while caring for young children and sick or vulnerable family members.
"Under the leadership of Veronica Ramirez, our finance director, the back office team managed to invoice and track every order and every delivery without fail, so this has been extraordinary," said Maurici.
The back office team supported their front-line colleagues in other ways as well.
"There was a shortage of protective gear at first, but our QRC manager Natalia Picher was incredible. She had a lot of contacts with local suppliers, and immediately started calling them up to order protective gear for our colleagues," added Maurici. "Natalia also got one of those heavy duty masks with gas filters for our staff who had to clean and disinfect all the mattresses, which was a very high risk job. The mask made him look like Darth Vader and made him sweat a lot, but he never got infected once."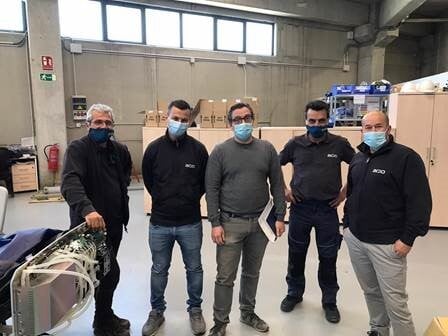 Pedro Gallego (far right) and Alberto Santaren (second from left) posing with colleagues in the warehouse.
Turning lows into highs
As the weeks wore on, capital and rental orders were at record highs, and even a small number of colleagues falling sick took a toll on an already lean team.
"Demand was so high that we sold every bed and lifter we had, even demo units. They asked for everything," Maurici said.
"We would deliver new equipment to parking lots, or service their equipment in their gardens. Sometimes we would go into an empty ICU wing to service a critical care bed, or to unblock a flusher-disinfector. The rest would cancel their service appointments if it wasn't an emergency.
"We tried to support our customers remotely as well, for example teaching them to repair the equipment over a video call. If the hospital had an in-house technician, they would show us the equipment on camera while we guided them through the repair.
"There were also cases where the hospital's in-house technician did not want to go into the facility, but our own technicians were willing to go in," recalled Maurici, who emphasized repeatedly how his team have gone above and beyond for our customers.
He has good reason to be proud. The projected revenue numbers for Arjo Spain in 2020 was 6.5 million Euros, which at the time reflected an ambition of strong growth. At the end of 2020, Arjo Spain reported an annual revenue of 12.5 million Euros, almost double the projection.
"I know that this is situational," Maurici said evenly. "This year we anticipate the number will go down again, because this demand was caused by Covid-19."
Even so, Team Arjo Spain have succeeded in strengthening their reputation among customers both old and new.
"We made it a priority to commit to our deliveries. Customers were saying there were other equipment suppliers who would promise deliveries but then end up cancelling or delaying," said Maurici. "We were also willing to deliver equipment into the facility, provided we could avoid contact with any of their patients and staff. We stayed in constant communication with our customers and were very transparent. We would tell them exactly what the status was with their deliveries, why we were doing things a certain way. This actually helped to build their trust in us.
"For customers who didn't see us as a market leader before, I'm confident that they do now."
Delivering new beds to the secluded underground passage of a hospital.
Learning to live with Covid-19
Over the course of the Covid-19 pandemic, a handful of staff have tested positive for the virus, including Maurici himself. Fortunately, they have all recovered fully and returned to work, and our Spanish colleagues are acclimatising to new routines.
"Now we speak to customers more through online calls or emails. Before the pandemic we might just drop into a customer facility and speak to whoever was available. Now we would never do that. We'd have to call ahead and plan an appointment, have a clear agenda and purpose, and make sure it was okay. Spontaneous visits are no longer an option."
Taking necessary safety precautions allowed them back into the care facilities, but also allowed the team to work alongside each other again.
"We were planning to move to a new office just before the pandemic, because we were based in a very small warehouse. In the new office we have a lot more space, and we can keep our distance. Everyone can work at least two metres apart," said Maurici.
As for rental and field technicians who do not report to the office?
"Every Friday we would have a socially distanced lunch just outside our warehouses. We had to keep our distance but we were able to see each other, talk to each other, and clear our minds," said Maurici. "These lunches were really helpful. Everyone would bring some food to share, we would make each other laugh, and this really helped us feel like things were a little more normal again."

As vaccinations go up and case numbers come down, masks are slowly coming off and colleagues are closing the social gap at Friday lunches.
Looking forward to normalcy
What are they most looking forward to when restrictions are finally lifted?
"Honestly, the thing I miss most is human contact, like giving people two kisses on the cheek when you greet them," said Pedro. "There are people I have met in a pandemic that I won't recognise in the street with their mask off."
"I miss social contact a lot," said Maurici. "I could rarely see my mama, who is 77 years old, during the pandemic. Now she's vaccinated, so it's a lot better now. I haven't had lunch with my friends in over a year. Before the pandemic I had just bought a house with a garden because I love to host people for dinners and parties, but I haven't had the opportunity."
"I miss talking to people, touching them. Now when you meet someone you're wearing masks, you don't shake hands, you don't hug or kiss them. For me this feels very strange," he added.
To keep in touch with his mother, Maurici would deliver her groceries and drop them off at her door, meet her in outdoor spaces with masks on, or speak to her from outside her window. He has even taught her to use modern technology.
"At the peak of the lockdown I taught her to use Teams and make video calls. She is now a tech-savvy grandmother!" he said with a laugh. "She has learned a lot of new skills."
She has thankfully never contracted the virus.
"When this is all over, we will have a party with the team," Maurici said. "We'll celebrate the fact that we survived this, that we are all alive and safe."
Find out more about Arjo Care here or read more Covid-19 stories from Canada, USA, and the Netherlands on the Arjo Blog.