Reduce cross contamination
At Arjo safety is our top priority
We make sure our solutions enable caregivers to carry out hygienic transfer routines, make it easy to disinfect care settings and facilitate single-handed care – all of which minimise the risk of spreading Covid-19.

A study by the US National Institutes of Health has shown that the virus that causes Covid-19 can survive on surfaces for hours – and even days.1 Because of this, regular contact between a Covid-19 patient and caregiver along with unfamiliar working areas and processes can increase the risk of cross contamination.

Our portfolio supports the prevention and control of infection while promoting staff safety and efficiency. It consists of products which are either single-use and disposable or easy to clean and disinfect.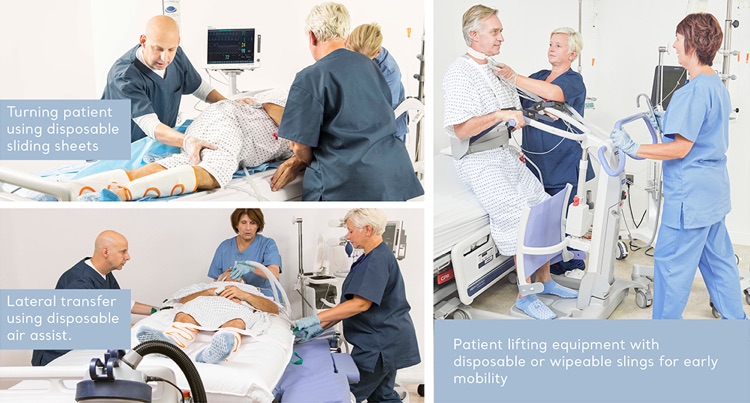 Disinfection during Covid-19
Our disinfection solutions support your Covid-19 infection control strategy with flusher disinfectors able to significantly reduce the risk of cross-contamination and help reduce healthcare associated infections.2 Many of our patient handling devices have been designed for easy cleaning with standard hospital disinfection solutions.
Move patients with minimal risk of spreading infection
The WHO Guidelines on the management of Covid-19 patients emphasise the importance of using disposable or dedicated equipment.3 We offer a range of solutions for helping you move your patient from one surface to another with minimal risk of cross contamination. These include disposable air-assisted patient transfer aids, sliding aids and repositioning slings for our patient lifters.

See our solutions for turning and repositioning.

1. van Doremalen N, Bushmaker T, Morris DH, et al. Aerosol and Surface Stability of SARS-CoV-2 as Compared with SARS-CoV-1. N Engl J Med. 2020; 382(16):1564-1567..
2. Arjo Clinical Whitepaper. Flusher Disinfectors: Reducing the risk of cross contamination. 2019.
3. Clinical management of severe acute respiratory infection (SARI) when COVID-19 disease is suspected: Interim guidance V1.2; World Health Organization 2020.