5 things to consider when choosing an air-assisted transfer device
---
2023-06-08T22:00:00.0000000Z
The lifting and transferring of patients play a pivotal role in caregiver's health and musculoskeletal injury risk, which can impact turnover and lead to staffing shortages, thus affecting overall levels of patient care¹,². This risk of injury has increased with the rising number of plus size patients seeking healthcare.³
Air-assisted lateral transfer devices such as AirPal are designed to assist with the transfer of patients who are unable to independently move from one surface to another and reposition within the bed. These devices work by using an air mattress to reduce the friction between the patient and the surface they are being transferred to, which makes the transfer safer and more comfortable for both the patient and the caregiver.
The devices use tiny pinholes on the underside of the air mattress to eject air and significantly reduce surface friction.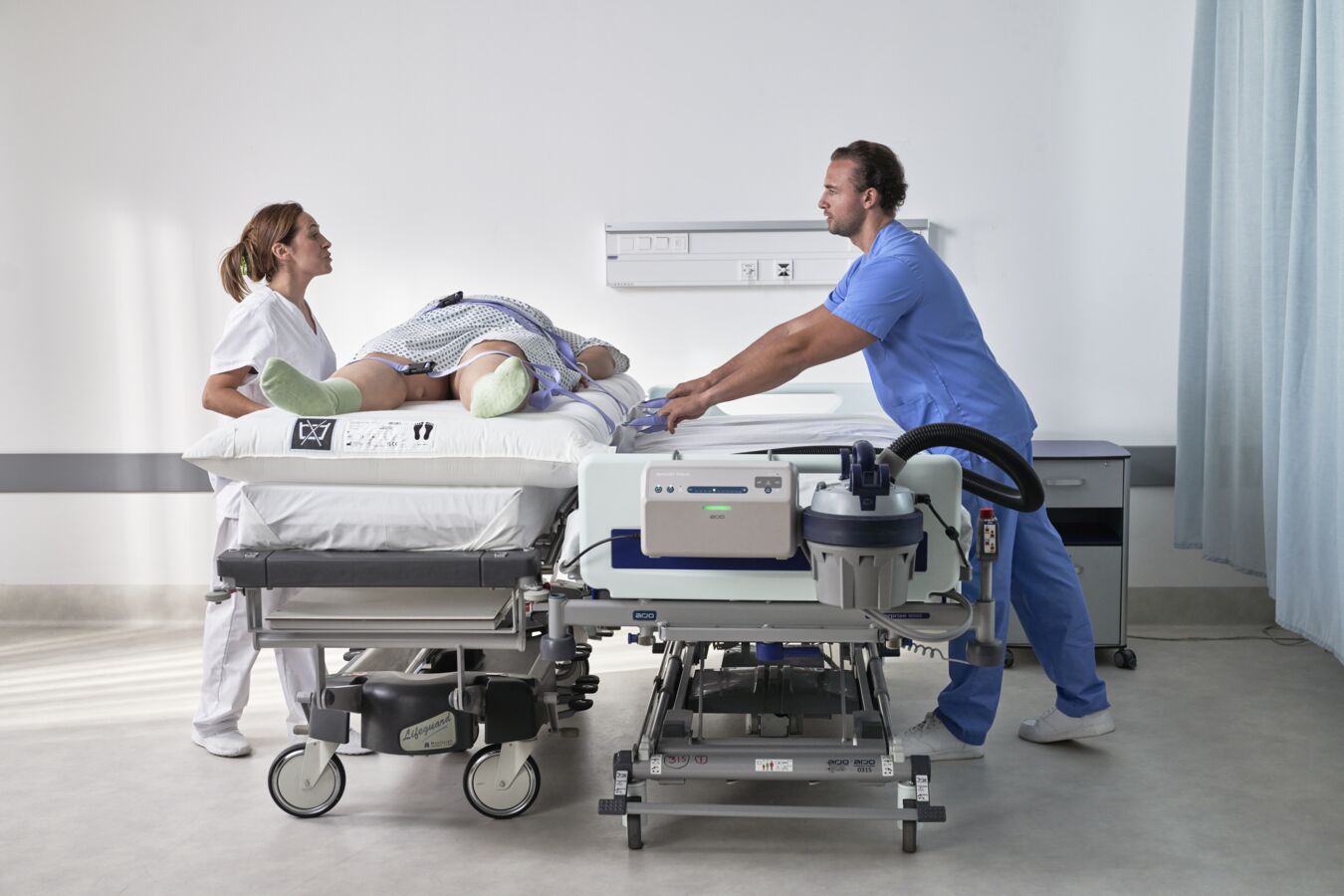 Here are 5 factors to consider when choosing air-assisted patient transfer solution:
1- Pushing and pulling forces
Lateral patient transfer usually involves at least two caregivers, one on each side of the bed and involves one caregiver pushing the patient and the other pulling. Ergonomic testing of 6 methods of lateral patient transfer was performed with the purpose of quantifying ergonomic product performance by measuring caregiver muscle activity, dynamic body postures, task efficiency and user ratings of 12 caregivers performing the tasks.⁴
"The AirPal system was rated as requiring the lowest level of physical exertion to use (most favorable) for a majority of body parts.⁴"
2- Performance & usability
Ease of transfer, time to complete transfer, control over the patient, physical comfort and patient safety are all key performance and usability indicators can should be considered.
"In an ergonomic testing of 3 different air-assisted solutions, AirPal air-assisted transfer solution received the highest (best) rating of all systems by the users for performance and comfort and was ranked highest (most preferred) overall.⁴"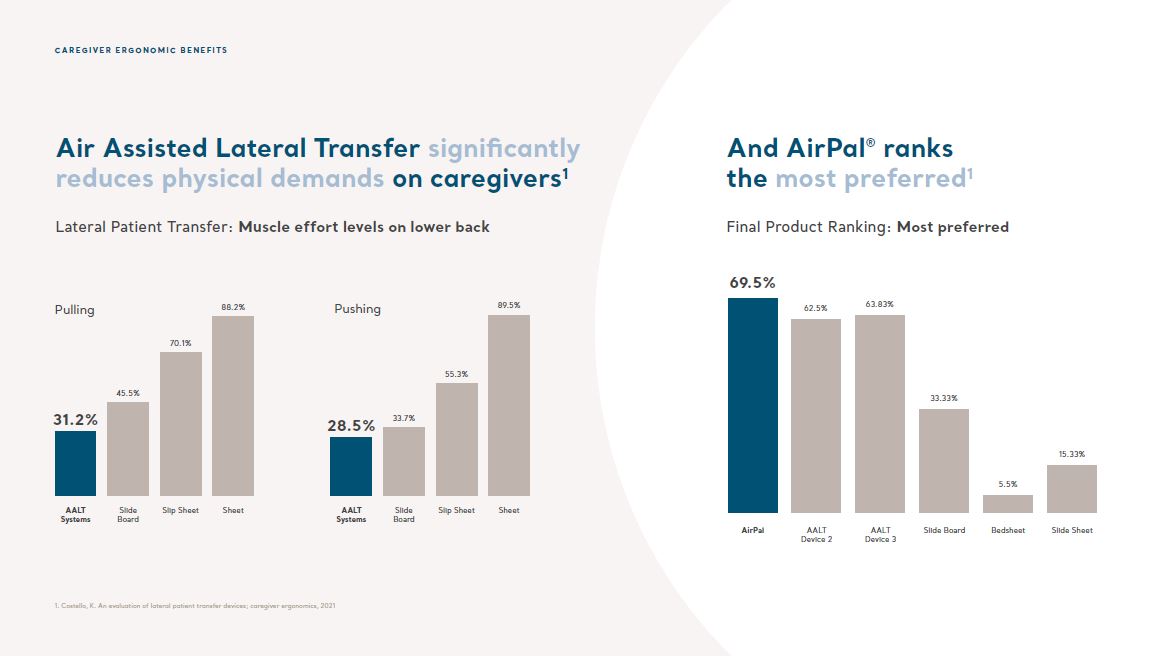 3- Leave under the patient for another transfer
Can the air-assisted transfer devices be left under the patient when another transfer or bed repositioning is needed? The patient often remains on this device deflated for long periods of time, to reduce the amount of manual intervention and handling by caregivers and improve working efficiencies. It may also remain in place for the duration of clinical procedures such as medical imaging or surgical interventions.
AirPal Air-Assisted Patient Transfer devices demonstrated negligible impact on the support surface performance when left in place on the surface during independent lab testing.⁵ These results also show no adverse effect on medical imaging and demonstrate acceptable levels of particulate shedding.⁵
"This can support clinical decision making when assessing the risk of leaving the AirPal Air-Assisted Patient Transfer devices deflated underneath patients for a period of time between transfers.⁵"
4- Launderable or disposable transfer mattress?
When considering the use of air-assisted transfer devices in a healthcare facility, it is important to weigh the benefits of a launderable transfer mattress versus a disposable version.
While single-use medical devices, such as the AirPal disposable transfer mattress, minimize the risk of cross-contamination, healthcare-acquired infections (HAI) and remove the burden of laundry, they may contribute to increased waste. However, with Arjo ReNu, AirPal can be responsibly reprocessed and reused, meaning fewer single-use devices reach landfill.
Launderable devices, on the other hand, may be a more cost-effective option in the long run and might be more environmentally friendly as they have a longer product life cycle in comparison with disposable devices. It's important to note that launderable medical equipment typically poses a higher risk for Contagion and HAI than single-use devices.
"AirPal is available in both verisons. AirPal disposable transfer mattresses designed for single-patient use, and AirPal launderable transfer mattresses designed to be fully machine launderable (wash and dry)."
5- High safe working load
The risk of caregiver injury has increased with the rising number of plus size patients seeking healthcare³. This makes safe working load a key aspect to look into when choosing an air-assisted solution.
"AirPal is designed to move patients weighing up to 1,000 lbs (454 kg), one of the highest in the market."
Ready to choose?
Click here to download the Whitepaper "An evaluation of lateral patient transfer systems; caregiver ergonomics" by Kevin Costello, Certified Professional Ergonomist, President, United States Ergonomics.
Discover the benefits of AirPal and see it in action with a personalized demonstration from an Arjo representative. CLICK HERE to book a demonstration.
References
1. (2015, June 25). OSHA adds key hazards for investigators' focus in healthcare inspections: Emphasis placed on musculoskeletal disorders, bloodborne pathogens, workplace violence, tuberculosis and slips, trips and falls.U.S. Department of Labor, News Release. Retrieved from: https://www.osha.gov/newsrelease/nat-20150625.html
2. Waters, T.R, Nelson, A., Hughes, N., & Menzel, N. (2009). Safe patient handling training for schools of nursing, curricular materials. Curriculum developed in partnership with the National Institute for Occupational Safety and Health (NIOSH), the Veterans Health Administration (VHA), and the American Nurses Association (ANA)1. Retrieved from http:// www.cdc.gov/niosh/docs/2009-127/pdfs/2009-127.pdf
3. Chaudhury, H., Mahmood, A. & Valente, M. (2009). The effect of environmental design on reducing nursing errors and increasing efficiency in acute care settings: A review and analysis of the literature. Environment and Behavior, Volume 41 Number 6. SAGE Publications November 2009 755-786. Retrieved from: http://eab.sagepub.com/content/ early/2009/05/05/0013916508330392.short
4. Costello, K. An evaluation of lateral patient transfer devices; caregiver ergonomics, 2021
5. Arjo product performance testing - AirPal Air-Assisted Lateral Patient Transfer device, 2021