Minimizing moments of friction with person-centered care
Dementia care is delicate and complex, and filled with nuances and challenges. We recognize it is not fueled by the pursuit of a cure. It is care rooted in the fundamental idea that behind each challenge is a unique individual with an unmet emotional or physical need that requires understanding and assistance.
The responsive behaviors are among the most distressing and challenging outcomes of the condition. These responsive behaviors most commonly include apathy, depression, irritability, agitation and anxiety. The pressures on a care environment and individual carers to mitigate episodes of responsive behavior, as well as the moments of friction they entail, can be significant. We believe it is only by applying a person-centered approach when caring for someone living with dementia that quality of life can be maintained, episodes of responsive behavior can be minimized and efficiency can be achieved¹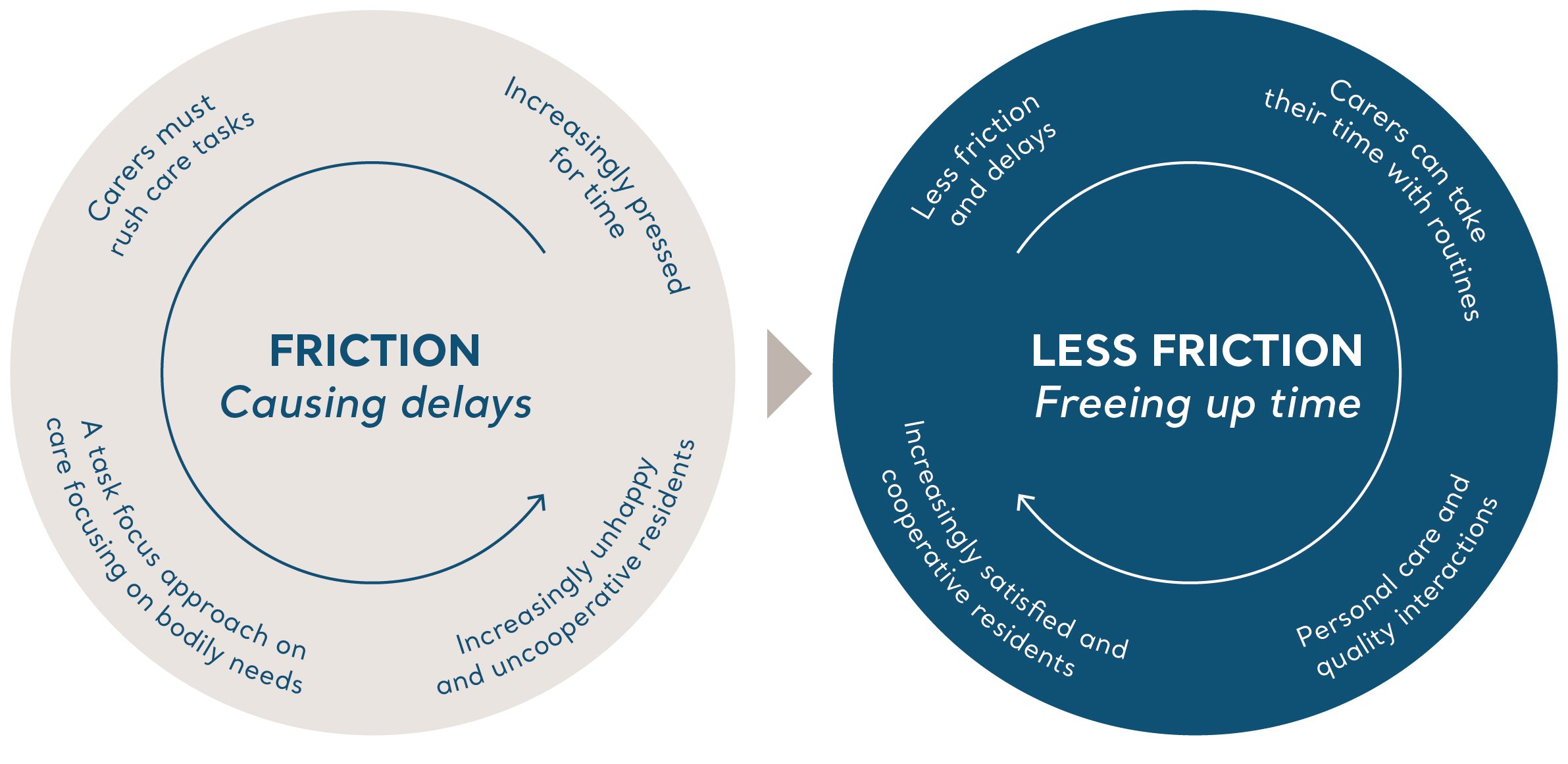 Supporting person-centered care
Creating a foundation of support that allows you to focus on a person-centered approach to care is essential to enhancing quality of life for a person living with dementia. The principles of person-centered care assert the human value of people living with dementia. It is an approach that recognizes the individuality of the resident, their personality and how their life experiences influence their response to their condition. It also emphasizes the importance of relationships and interactions with others. Person-centered care is internationally recognized as a best practice model of care for people with dementia² and is recommended in international policy and practice guidelines³.
References
1. Sloane PD, Hoeffer B, Mitchell CM et al. Effect of person-centered showering and the towel bath on bathing-associated aggression, agitation, and discomfort in nursing home residents with dementia: a randomized, controlled trial. J Am Geriatr Soc. 2004 Nov;52(11):1795-804.

2. Sam Fazio, Douglas Pace, Janice Flinner, Beth Kallmyer. The Fundamentals of Person-Centered Care for Individuals With Dementia. The Gerontologist. Volume 58, Issue suppl_1, February, 2018: S10–S19,

3. Sam Fazio, Douglas Pace, Katie Maslow, Sheryl Zimmerman, Beth Kallmyer. Alzheimer's Association Dementia Care Practice Recommendations. The Gerontologist. Volume 58, Issue suppl_1, February, 2018: S1–S9